If you've spent some time on the popular real estate blogs, you may have come across the term "house hacking." It generally means what it sounds like, a way to break into the real estate game that will save you time and money. House hacking often refers to purchasing and living in a multifamily unit while renting out the remaining units. I take a broader definition to include purchasing a single-family home that needs some repairs before it can be converted to a rental or flipped.
This is the approach my family took on our latest rental. We purchased a 3B/2BA starter home in a desirable location that needed a major renovation. No retail buyer was interested in this house because it didn't show well. It had not been touched since the 70's.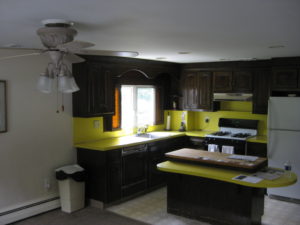 We saw past the terrible wood paneling and yellow Formica countertops. Instead, we focused on the numbers and saw a way to buy a cash flowing rental property at an incredible price. After running the numbers, it was clear that this property would easily cash flow about $1,000 per month and yield about an 8% cash on cash return after closing and repair costs.
Advantages of house hacking
Better Financing Terms
The best mortgage rates are available to owners who occupy their properties. If you want a conventional loan but will not be occupying the home, you will be pushed into the non-owner occupied rates. Expect to pay between .25 and .50 or more in interest. Also, you will be required to put at least 20% down, many times even 30% down. Choosing to live in your investment lets you lock in a substantially lower mortgage rate and put significantly less down.
CAUTION: You must intend to live in your investment for a minimum period set out in your promissory note, usually at least one year. Abide by the terms of your promissory note! While I've never heard of this happening, your loan can be called if you are found to have violated this clause.
Avoid Capital Gains Tax
You can avoid significant tax expenses if you plan to flip your house hack. The government allows you to avoid capital gains tax on the sale of any property in which you have lived at least 2 out of the last 5 years. You can claim the exclusion once every two years. In theory, you could flip a house hack every two years under this provision and reap the gains without the tax impact. There are certain restrictions so of course you should consult your tax account first.
Landlord Experience
The more common practice of house hacking is to purchase and live in a multi-unit complex. This is a crash course in property management. Your tenants will be your neighbors and you will be just a doorbell ring away. This allows you to keep a close watch over your property and tenants. But they will also be able to reach you day or night for any issue that comes up. Be sure to include a lease clause indicating the first $50-$100 of repairs will be the tenant's responsibility. This keeps the nuisance calls to a minimum.
Disadvantages of house hacking
Living in a construction zone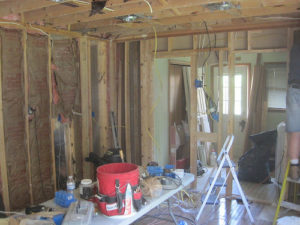 Be prepared to live in a construction zone if renovations are part of your house hacking plans. The end result can be rewarding but this is not for everyone. Make sure you talk with your family or significant other before signing them up for months, if not years, of renovations.
photo credit: dchrisoh
Living with Tenants
This is both an advantage and disadvantage depending on your perspective.   While you may like the idea of being close to your rentals and tenants, most new landlords do not like to be property managers. This is unavoidable if you are house hacking. You can hire a property manager but you will be living next door to your tenants. They will call you first for every issue that comes up. Read this post for tips on DIY property management.
Conclusion
House hacking can be a great way to break into real estate under favorable terms but you have to know what you are getting into. Abide by the terms of your mortgage agreement and be certain you and your family are ready for the journey ahead. For more information on house hacking, check out this classic article from BiggerPockets contributor Brandon Turner: How to "Hack" Your Housing and Get Paid to Live Free
cover photo credit: caribb