If you are considering signing up for a free online property management service, such as Cozy Property Management, then you know there are many to choose from.  The list of features can be difficult to navigate and compare but often include online rent collection, tenant screening, reminders, maintenance managers and much more.
As a self manager, I need to streamline my process as much as possible.  So I decided to try the free Cozy Property Management software. Here's a comprehensive review of what I've learned.
Full Disclosure: I wrote this article in March 2017. At the time, I had been a happy customer of Cozy for about a year. I recently became a Cozy affiliate partner because I believe their service is best for most Accidental Landlords like myself. I make a small commission if you use Cozy's paid services at no extra cost to you.
Cozy is still best for me at this stage in my real estate investing career but it may not be right for everyone. You should check out my comparison of the top online rent collection services to see which one is best for you.
What is Cozy Property Management?
Cozy Property Management bills itself as a complete, modern service for independent landlords and renters. Designed with both landlords and renters in mind, it is an online property management portal that helps landlords list properties and collect rent among other things.
Best of all, Cozy Property Management is free for landlords! Almost. There is only one service for which they charge landlords.
| Feature | Cost |
| --- | --- |
| Collect rent online, automatically | Free |
| Online rental applications and screening tools | Free |
| Tenant credit reports (paid by applicant) | Free |
| Tenant background checks (paid by applicant) | Free |
| Market your listings on Realtor.com and Doorsteps | Free |
| No limit to number of tenants and roommates | Free |
| One-time payment requests for late fees, utilities, etc. | Free |
| Switch to Cozy for payments when you already have tenants | Free |
| The best customer support on earth | Free |
| Transaction history and export for financial software | Free |
| Use multiple deposit accounts to collect rent | Free |
| Full access to Landlordology educational tools and resources | Free |
| Worldwide access, 24/7 | Free |
| Rent estimate and property analysis | $19.99 |
Cozy Property Management Features
Property Listings
Cozy Property Management helps you showcase your rental with photos, lists of amenities and lease terms along with important specifics such as pet policies. You then can share the listing in any social media or email via a link. Cozy offers free listings with Realtor.com and Doorsteps as an added bonus. It's important to find a qualified tenant as quickly as possible to minimize tenant turnover costs.  Cozy will help you get the word out.  Learn more about Cozy's free rental listing feature.
Rent Collection
Invite your tenants to sign up and enjoy hassle-free, automatic rent collections! Your tenant has the choice of ACH transfer or even pay by credit/debit card (for a fee). ACH transfers do take several days so be prepared. Cozy will send you reminders of payment due dates and let you know when a payment is in progress. You can also view balances and download history. Tenants have the option to split payments across roommates.
Screening Tools
Cozy offers a credit and background check screening tools that are free for the landlord. They cost the applicant $24.95 each or $39.99 for both. Applicants run their own reports so they don't have to provide sensitive information to the landlord to run the checks.
Rent Estimate
This is the only service that isn't free for landlords. For $19.99 you can get a detailed report with a rent estimate including expected vacancy rate and local comps. See a full sample report here.  I've reviewed several free and premium rent estimate tools and this is one of the best.
RentRange, which provides Cozy's report, is a really good tool if you want a professional and comprehensive rent estimate analysis.  If you  are looking for a little more advanced analysis, then check out RentFax. You can run a free report as a first time user. It will provide a similar analysis as RentRange but it also includes a proprietary RISC analysis which factors in the likelihood of having a disruption in rent payments. Pretty cool!
EXCLUSIVE SAVINGS!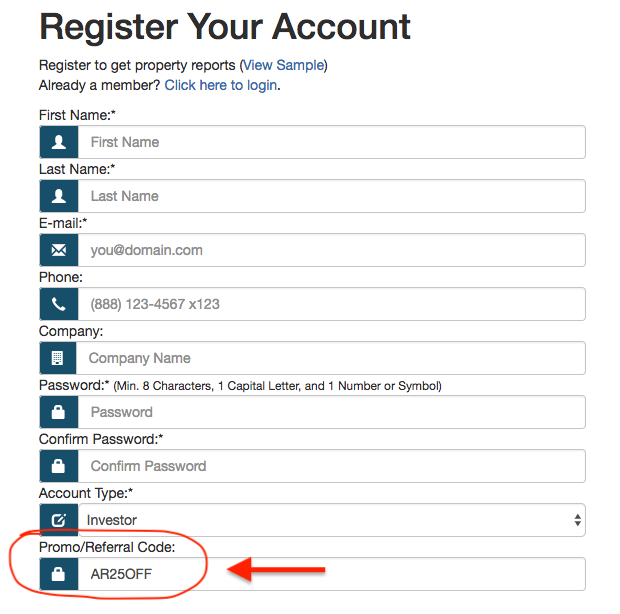 I'm excited to announce that I've partnered with RentRange to provide big savings for the Accidental Rental Community! Simply enter the code AR25OFF when you create your account and you will get 25% off the direct price of a Rent Range report. Instead of $19.99, you will only pay $10.52!
Cozy Property Management Experience
Signing Up
Sign up is very easy. Simply choose the landlord option and create a user account.   The first step is to create a property profile with basic information and a profile picture.
Setting up your bank account
You need to then set up a bank account in order to collect rent. You will be prompted for your bank ID and Password. Don't worry! Cozy is safe and it's not necessary to hand over your personal information. You can bypass this by simply giving the ACH routing number and account number for your bank account. This is the same information you hand strangers every time you write a check.
From there you can either configure the property to begin accepting renter applications or set up an existing lease. Note however, a "lease" on Cozy Property Management is not a legal binding lease but rather the basic terms of your lease agreement. It includes monthly rent, beginning and ending lease dates, security deposits and other move in fees.
Learn more about Cozy's bank set up process.
Inviting tenants to join
The next step is to invite your tenants to join Cozy.   Simply enter their name and email and Cozy Property Management takes care of it from there.   Your tenant will receive an email from Cozy and be asked to set up a bank account via a verification process.   They will set up a recurring payment. No more late rent! They have the option to use a credit or debit card for a 2.75% fee. My tenant signed up in less than 10 minutes after receiving the email.
That's it! You now have an online property management system with a recurring monthly payment set up! Over the course of the next month you will begin to see notifications as the payment is in progress and being deposited. My first payment cleared in 4 business days.   This is about par for ACH clearing.
One more great feature in Cozy Property Management is the ability to add a one-time charge or credit to the tenant balance. You can use this to charge for non-recurring things like utilities or to reimburse a tenant for out of pocket charges. Simply head to the "transactions" page on your lease, input the amount, the date and a memo. Your tenant will receive a notice of the charge/credit. Note, that it doesn't transfer any funds. It only changes the balance due from a tenant so they can adjust the next recurring payment accordingly.
Here's a great video from Cozy showing you the whole set up process.
Expense Tracking & Maintenance Requests
Updated December 2017 – Cozy recently added a couple of new free features late 2017.
Expense Tracker allows you to track every rental expense online. You can assign each expense to a specific property, add receipt images and more. Best of all, it will help you maximize your rental property tax deductions and make tax time easier.
Maintenance Requests will help you coordinate repairs and routine maintenance with your tenants through the Cozy system. It will keep a trail of your interactions and let you visually document when an issue has been resolved.
Both of these new features make Cozy a great choice for the DIY landlord.
Learn how to make the most of Cozy's Expense Tracker and Maintenance Requests features.
Cozy Property Management Pros & Cons
Here is a summary of pros and cons I found after having tested Cozy Property Management for myself.
Reasons to love Cozy Property Management:
Tenant was thrilled to have an automated system for rent payment
I no longer have to battle Saturday bank lines and traffic
The add a charge feature makes it simple to adjust recurring payments
Email reminders keep both tenants and landlords informed
Using multiple bank accounts makes it adaptable to your business size
No chasing multiple tenants for rent checks – they manage it via Cozy
What could be improved:
A way to refund a payment would be a nice feature
A mobile app for landlords would be a great addition
Legal document creation, e-signing and storage capability (coming soon!)
Overall, both me and my tenant are pleased with our Cozy Property Management experiment. My tenant doesn't have to worry about missing a payment. It has essentially eliminated one major hassle from my property management checklist – collecting and depositing rents in time for the next mortgage payment! In fact, I'm expanding this to my other rentals immediately! If you are considering a free online property management system, I highly recommend giving Cozy a test.
Don't forget to check out the rent collection services comparison chart to see Which Free Online Rent Collection Service is Best for you.
Please share this article if you found it to be helpful. Thanks!
Sign-Up For Your FREE Guide To Cozy Expense Tracking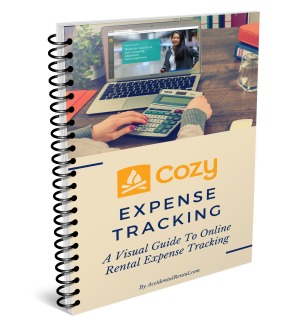 Sign up today for the monthly Accidental Rental newsletter for instant access to the visual guide to Cozy's Expense Tracking Feature. It will guide you step-by-step on how to properly track online rental expenses and save money! Use the sign-up form below to get your free copy now.
Note: Most images are from the Cozy.co website.  © Copyright 2012-2017 Cozy Services Ltd.  I am affiliated with Cozy Services not only because I'm a happy customer, but also because I believe Cozy is best for most Accidental Landlords like myself!  Definitely check them out for yourself.