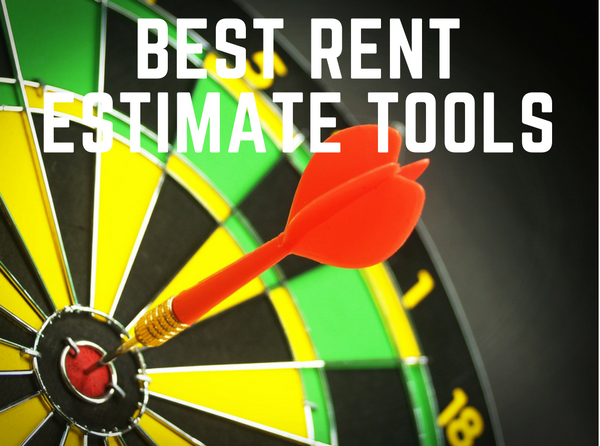 Are you wondering how to estimate rent? If you've been a landlord for a while you may have come across the term and Goldilocks Price. I first heard it from Lucas Hall at Landlordology. That's the rent price that's not too high and not too low, but just right to ensure you maximize rental profits. But how do you come up with a good rent estimate?
Knowing the perfect rent price can be difficult. Every experienced landlord has his or her own method of determining the best market price. Whether they use Zillow, Craigslist, the MLS, or simply increase last year's rent by 3% (I hope you don't do this!).
There are a number of free and premium rent estimate websites and tools available but which one is most accurate? I've tried many of them and I was curious to see which ones are most accurate and provide the most thorough analysis to help me determine the best rent price.
The Right Rent Price Can 2X Your Profit Percentage!
I know you understand that the rent you charge has a direct impact on your bottom line. But do you understand that it has a magnifier effect? Check out these two scenarios below. See how charging the right rent from the beginning grows your Gross Profit as a Percent of Net Rents by almost 60%? Setting the right rent at the beginning can easily more than double your profit percentage.
| | $1,100 Rent w/ Price Cut to $1,000 | $1,000 Rent |
| --- | --- | --- |
| Months Rented | 11 | 12 |
| Gross Rents | $12,000 | $12,000 |
| Less Vacancy | ($1,000) | ($0) |
| Net Rents | $11,000 | $12,000 |
| Less Operating Expenses | ($6,000) | ($6,000) |
| Less Mortgage Interest | ($3,600) | ($3,600) |
| Net Income | $1,400 | $2,400 |
| Net Income % Net Rents | 12.7% | 20.0% |
Learn more about rental property Profit & Loss Statements and how to maximize rental profits.
Rent Estimate Tools Compared With Screen Shots
I've tried a few of these rent estimate tools over the years but I thought it was time to put them to the test to see how they all compared. I took a bunch of screen shots so you can see exactly what you will get when you use these rent estimate services. Below are the 5 best rent estimate tools I recommend you try on your next tenant turnover.
| | Free or Premium? | Includes Beds? | Includes Baths? | Includes SqFt? | Includes Comparable? | Other Features |
| --- | --- | --- | --- | --- | --- | --- |
| | FREE | YES | YES | YES | YES | Free syndicated rental listing |
| | FREE | YES | NO | NO | NO | Affordability calculator |
| | FREE / PREMIUM | YES | NO | NO | NO / YES | Shows number of comparables in radius |
| | PREMIUM | YES | YES | YES | YES | Rental Benchmarks & Vacancy Trends |
| | PREMIUM | YES | YES | YES | YES | RISC Analysis |
Free Rent Estimate Tools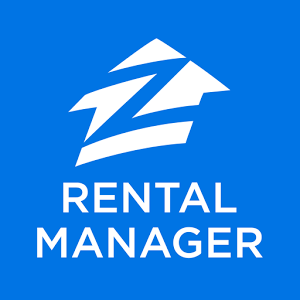 1 – Zillow Rental Manager
You are probably familiar with Zillow's Zestimate feature but did you know they have a similar feature for estimating rents? There is a lot of controversy around Zillow's Zestimate and it seems to be making life for real estate agents and home sellers very difficult. Read Bill Gassett's excellent article which describes how Zillow's algorithm for home values can be very misleading.
Despite its apparent flaws, Zillow Rental Manager is still a useful rent estimate tool for landlords. It is completely free and along with a rent estimate, it will show you local competitive rentals listed on Zillow. Let's see how it works.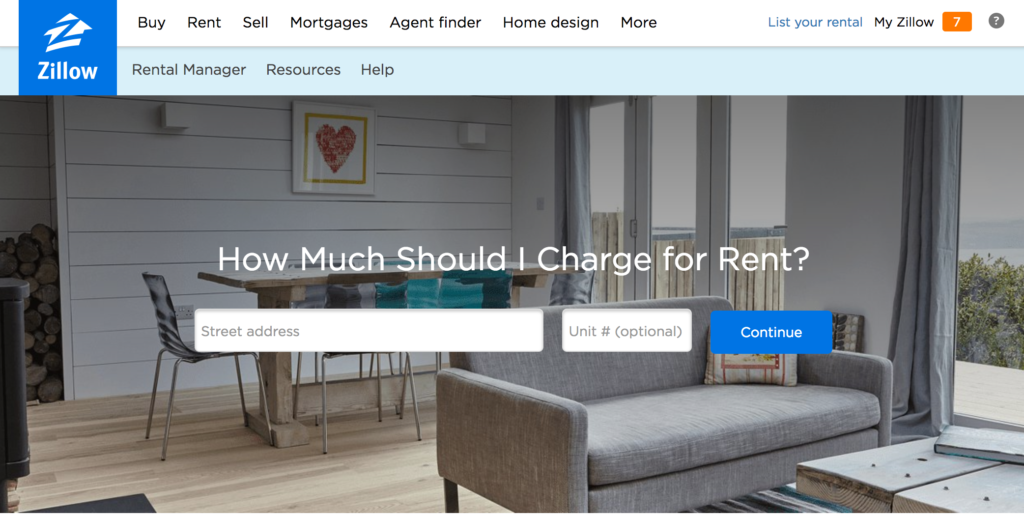 In order to see the details of your Rent Zestimate, you need to be on Zillow's Rental Manager site. The details are not available on Zillow.com. To get started, head over to the Zillow Rental Manager Rent Estimate home page. Enter your property address and Zillow will bring up a map with your property and surrounding rental comps.
Similar to Zillow's home Zestimate tool, the Rent Zestimate is based on a proprietary algorithm pulling from current listings and public records. Your rent estimate will come with specific details about your property including number of bedrooms, number of baths and livable square footage. Take the time to review this information and update it if necessary. The accuracy of these details has a big impact on what Zillow calculates as your fair rent price.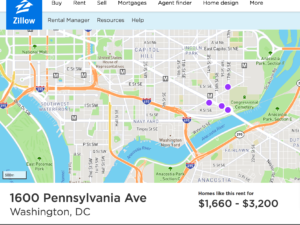 Bonus Features
The best part about the Zillow Rent Zestimate tool is that it automatically brings up the best rental comps for you to review. In my case, it only returned one comp in the immediate area. I believe that's because Zillow is trying to match the number of beds and baths exactly.
I tested this on a 3 BR, 2.5 BA property. Not too many properties will match this exactly. You may want to do a separate query on local rentals using Zillow.com to see the full breadth of properties available for rent in your area. Simply searching on 3BR rentals in my area turned up an additional 4 properties on the market. This is the competitive set your prospective tenants will be reviewing.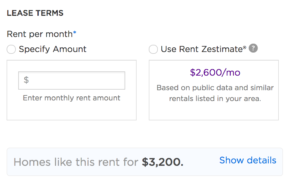 Zillow Rental Manager will also prompt you to list your rental for free. To do this you need to create a Zillow account. I highly recommend you do this whether you plan to use Zillow Rental Manager or not as this is the only way you can control how your properties appear on Zillow.
Simply fill in a few basic questions and your rental listing is ready to populate with your best description and photos.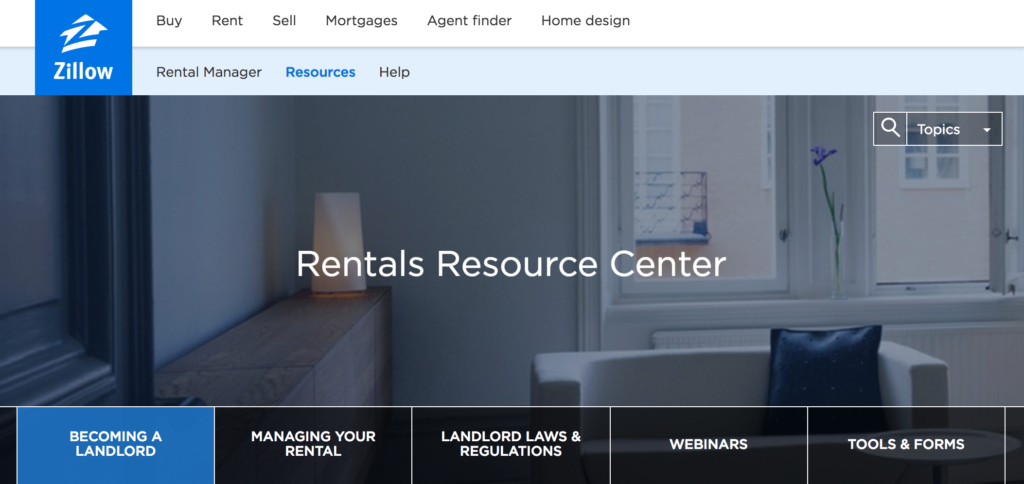 Finally, Zillow Rental Manager does offer a number of useful guides and articles to help landlords in the property management process. Be careful if you plan to use their forms as they may not comply with your local laws. Always have a local professional draft or review your legal forms. Check out EZLandlord forms for an online resource that uses professionals to draft state-specific forms you can fill out yourself at a fraction of the cost a local lawyer will charge.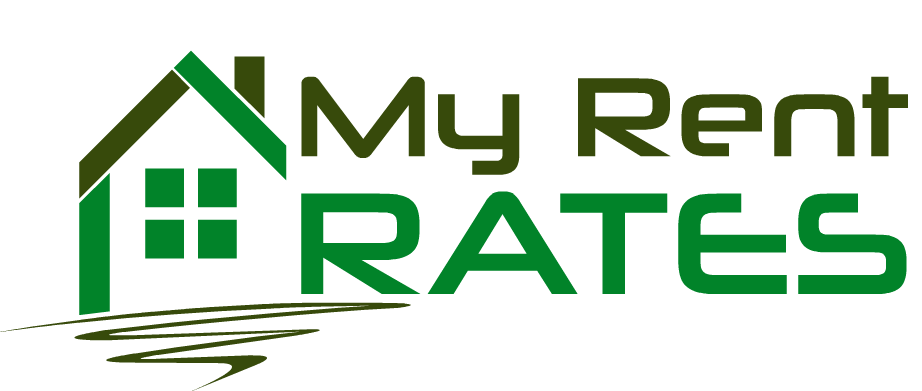 2 – My Rent Rates
My Rent Rates is a completely free rent estimate tool. You enter your address, monthly rent and number of bedrooms and you will get a rental analysis with an Average Rent (also called a "Zestimate"). They also provide a range of rents but it is unclear what percentage the range represents.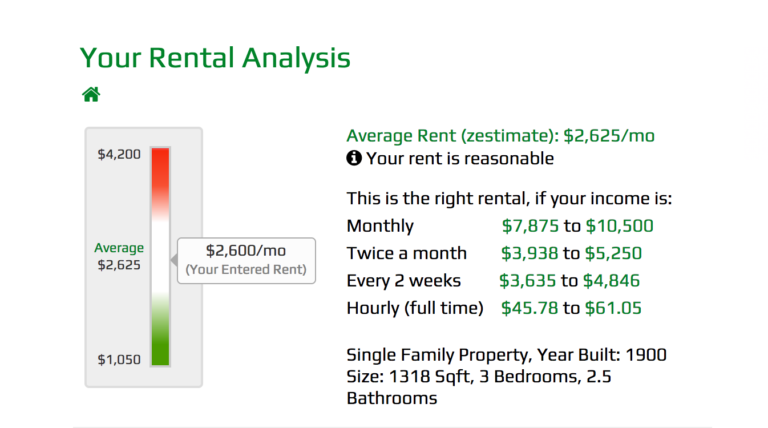 In my case the range was +/- $1,575 or +/- 60% of the average rent. Not a very useful range but good to know my rent wasn't in the red zones. You can also see that My Rent Rates pulls information from public records like Zillow and others.
This rent estimate tool also offers a number of useful articles and a forum for landlords/renters. However, I got the impression that it was overall positioned towards tenants and the forum wasn't very active when I was researching this article.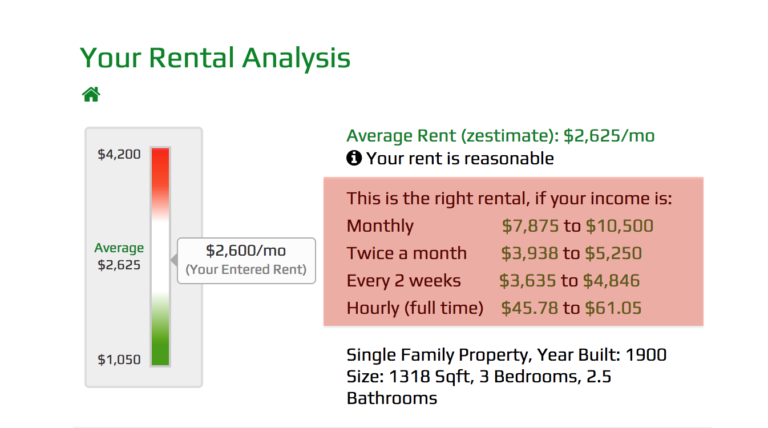 One neat feature MyRentRates has is its affordability calculator. You can see from my example above that the affordability calculator uses a 3x to 4x of the average rent to determine affordability. This is great because it coincides with the minimum most landlords use to screen tenants.
Free/Premium Rent Estimate Tools

3 – Rentometer
I've been using Rentometer for years now as a way to quickly gauge the competitiveness of my rents. It offers a very simple interface and gives you a clear indication of whether or not your rents are fair. Rentometer is free to use for the basic rent estimate but if you want to see comps and other details you do need to pay a premium.

The basic rent estimate provided includes average rent prices and median rent prices in your area. It also provides rent estimate ranges within +/-30% and +/-40%. Rentometer doesn't use public records to pre-populate details such as number of baths or square footage. You have to enter these details.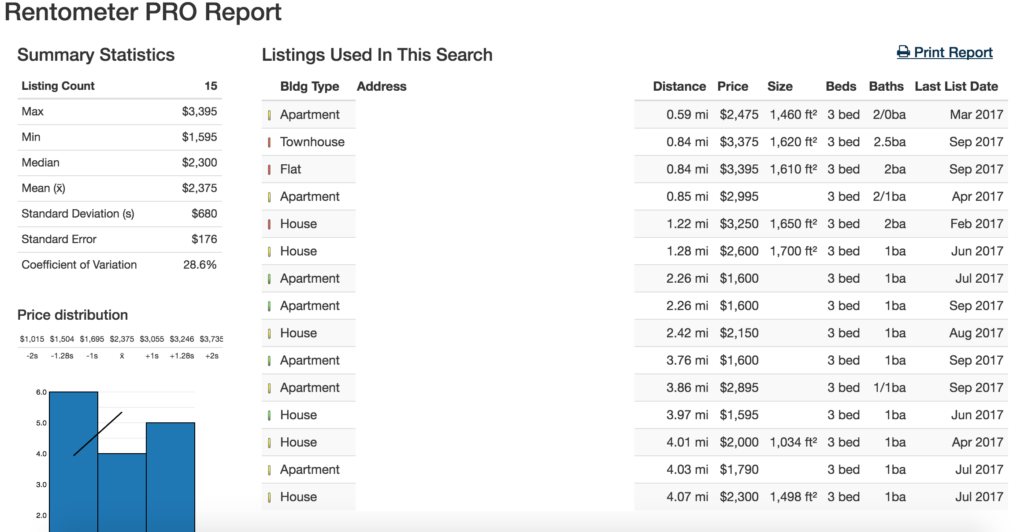 Rentometer is currently offering 3 free Pro reports when you sign up. I decided to give one a try. The pro report included lots of statistics about the comps it uses to create your rent estimate. Details include the building type, address, distance, rent, size and last listed date. The oldest listing was about 7 months old but about half were from the last 60 days. It's not clear if these were active listings or closed listings.
Pro pricing starts at $99 a year and goes up to $199 per year but they are currently offering discounts on this as well. Visit Rentometer for more info on their pro plans.
Check out REtipster's in-depth review of Rentometer to learn more about how it works and how accurate it is.
Premium Rent Estimate Tools

4 – RentRange
Rent range is a premium rent estimate service. There is no free basic version or free trial. It's what the pros use. I gave it a try so you could see what it's all about.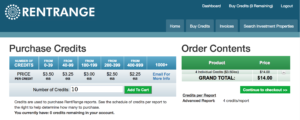 The first thing you will notice is an awkward shopping cart system. You don't buy rent estimate reports. Instead, you buy credits, which you apply towards rent reports. Each report cost four credits and each credit costs $3.50 each. Unless you are buying in bulk, in which case they offer discounts. I bought four credits for $14 to run my report.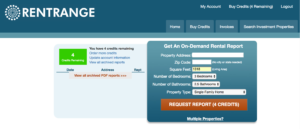 After you purchase your credits you are ready to run your report. To do this you have to enter basic details about your rental such as address, number of bedrooms, number of bathrooms and square footage. The result is an immediate and very comprehensive report with 4 sections.
Section 1 – Property Rent Estimate Details


This is the core of the rent estimate report. It features a Rent Estimate, a Confidence Score and an Estimated Vacancy Rate. It also includes a number of useful data points to help you make an informed rent decision. These include several benchmarks such as local median prices, vacancy trends and rental saturation measures.
Section 2 – Comparable For-Rent Property Details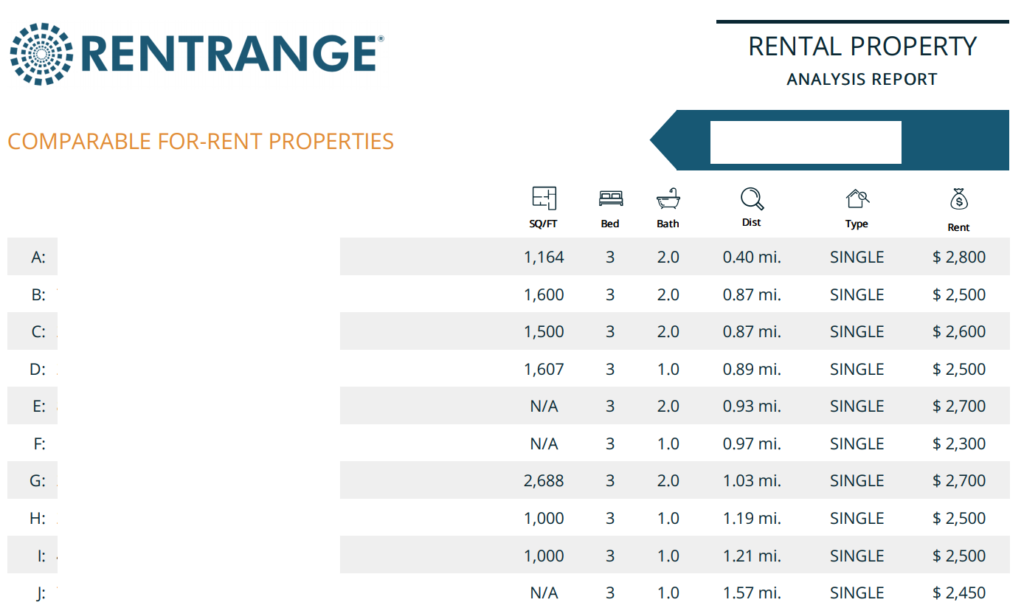 This section includes a detailed table of local rentals and a map of the properties. My report returned 10 comparables within a 2.0 mile radius. These seemed to be a mix of current and expired listings.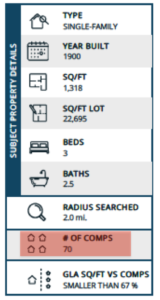 It's also worth noting that RentRange tells you how many comps it used to provide your rent estimate. Although they only show 10, my report was based on 70 comps.
Section 3 – Rent Trends by Bedroom & Type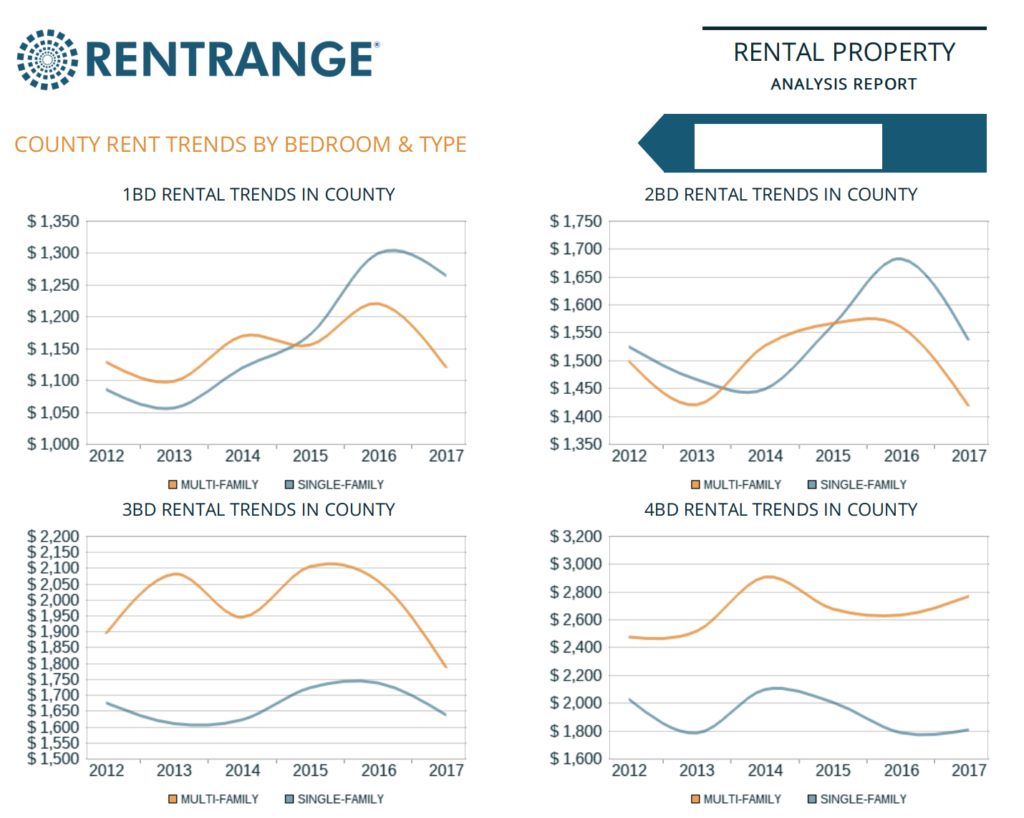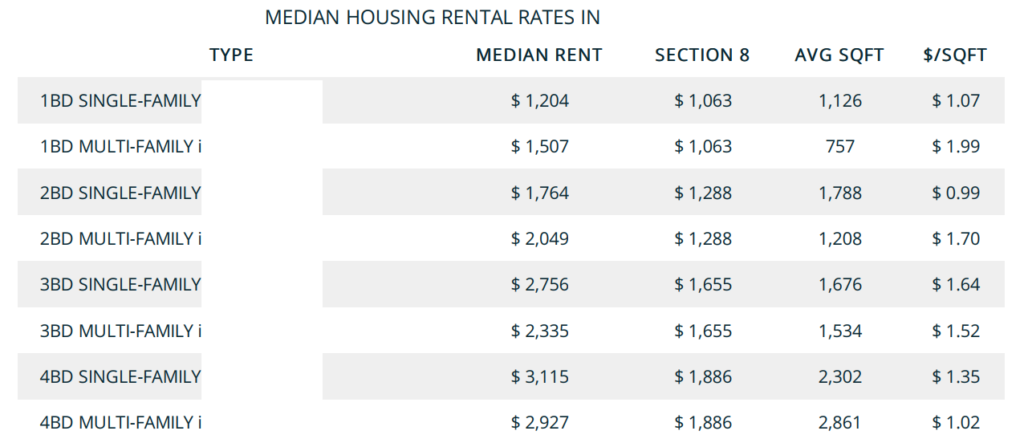 Section 3 includes 5-year trends of local rentals for both Single Family and Multi-Family homes in your area. It also provides a table for current median rents by Bedroom count including Section 8 rents.
Section 4 – Are Gross Yield & Rental Trends

The final section is designed to provide the annual Gross Yields (Annual Rent/Property Price) for the nearest 10 zip codes. My report was blank for this section. Although I wouldn't find this information useful in determining the best rent for my rentals, it would be great to see as a Buy & Hold investor. It was disappointing not to see this section with no explanation as to why it wasn't provided.
Section 4 also includes a 1-month, 3-month and 12-month rent estimate trends for the zip code, city, county and state. All up arrows in my rental neighborhood!
November 2017 update: I asked the folks at RentRange to look into why my particular report didn't include the Gross Yield calculation. It turns out there was a minor bug in the system that they were able to quickly fix and send me a new report. Below is an example of what you will see in the Gross Yield section (your report will show the actual zips). Luckily my Zip Code is one of the highest gross yield areas. Yay!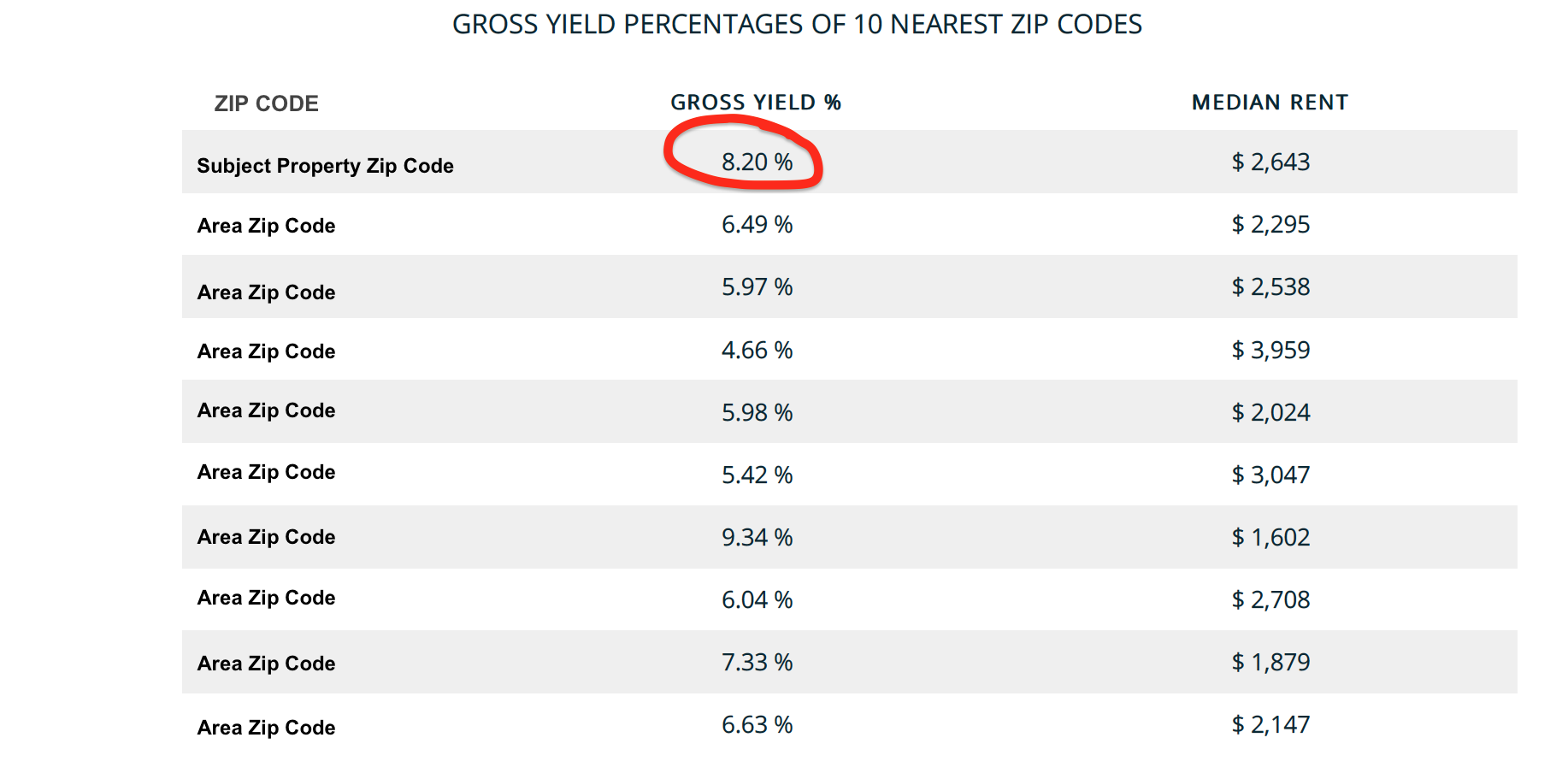 Thanks to the excellent customer service at Rent Range for looking into this issue for me!
RentRange and Online Rent Collection Services
One thing I should note is that RentRange provides the same reports to Online Rent Collection Software companies like Cozy and Rentalutions. These services do charge a little more when you buy a rental estimate through them. The convenience of keeping this information linked to your online rental information may be worth it for some for people.
However if you are on a budget, you can save a few dollars by using RentRange directly.
EXCLUSIVE SAVINGS!
I'm excited to announce that I've partnered with RentRange to provide big savings for the Accidental Rental Community! Simply enter the code AR25OFF when you create your account and you will get 25% off the direct price of a Rent Range report. Instead of $14, you will only pay $10.52!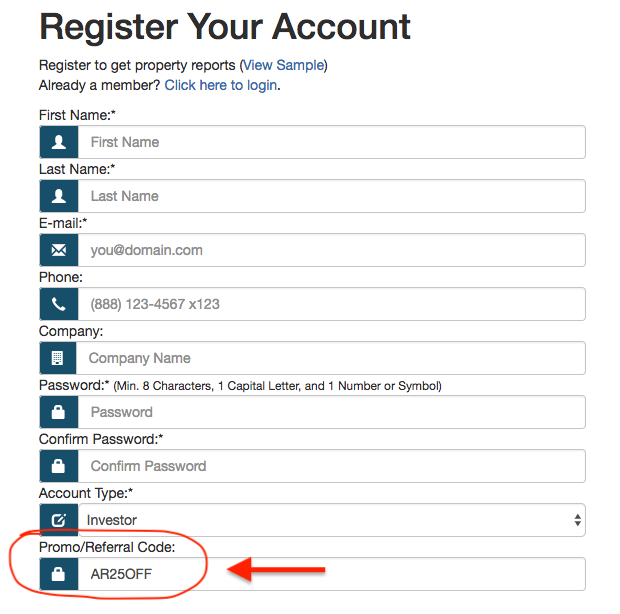 Now you can get the exact same report for which others charge up to $19.99 for only $10.52! I hope you take advantage of this exclusive offer to maximize your rental profits.

5 – RentFax
RentFax is also a premium professional rent analysis service. They offer a number of services designed to help you find great rental investment properties.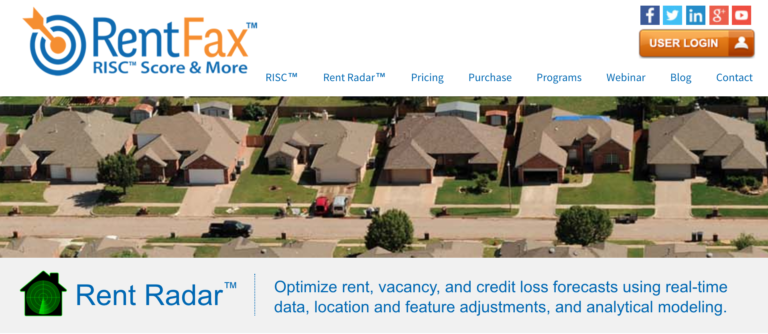 The RentFax rent estimate report is called a Rent RadarTM report. You do need to sign up to run a report. Once you've created an account you just enter the property details similar to other services. Within a minute you will have an online report that you can access online anytime. You also have the option to download the report as a PDF to keep for your records.
Section 1 – Summary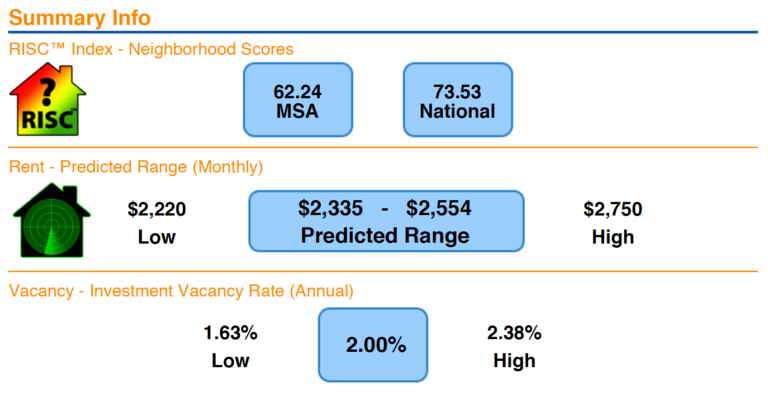 The Summary rent estimate section provides a quick snapshot of the key components of the detailed report including the RISCTM (see description below), Predicted Rent Range and estimated Vacancy Rates.
Section 2 – RISCTM Report

The RISC summary is a proprietary index designed to show how stable rental income is in the nearest MSA (Metropolitan Statistical Area) relative to the national average. Note that this is not necessarily where your rental is located.
In their words: Income Stability reflects the likelihood of an event that will disrupt the rental income generation of a residential real estate investment property. It runs on a hundred-point scale with the higher scores representing more rental income stability.
This section goes on to detail the population density and the factors impacting the RISC score. It provides details on each of the following factors:
Housing – Home Values and Housing Profiles
Occupancy – Percent Rent vs. Own
Crime – Stats on violent and property crimes
Economic – Percentage of adults with college degrees
Education – School rankings relative to State and National scores
Section 3 – Rent Estimate

Called a RentRadarTM this rent estimate includes a cool graph showing the probability curve their prediction is accurate within +/- 15th percentiles.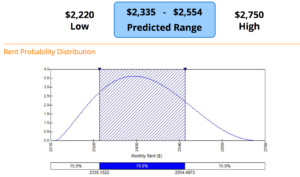 The Comparables included in this section show how each comp is adjusted based on differences in attributes. Comp A below for example only has one bath versus my property with 2.5 so RentFax added $60/month to the rent estimate. If you've ever had a home appraised, then you are familiar with this methodology.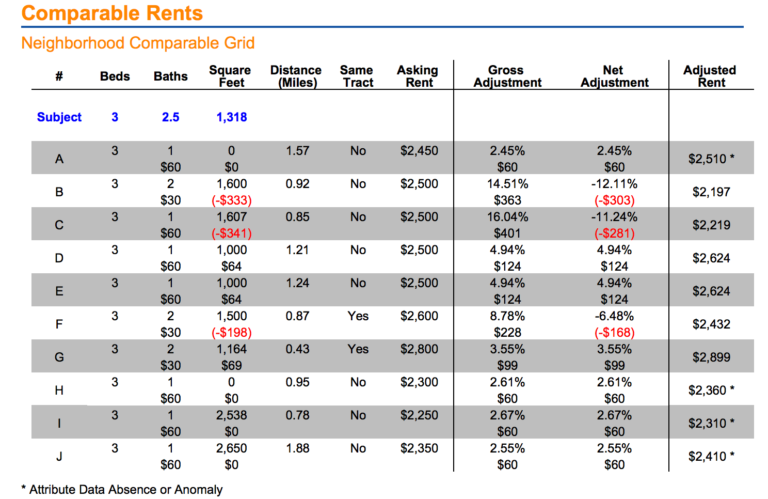 As you can see from the stats below, this analysis also included a radius of 2.0 Miles and 70 properties. It also comes with a 78% confidence score. Exactly the same as RentRange. Hmmm.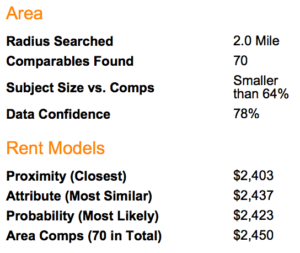 Section 4 – Vacancy

The final section of the report is the vacancy analysis. As you can see above, RentFax is predicting I will probably experience between 1.6% – 2.4% vacancy rate on this rental.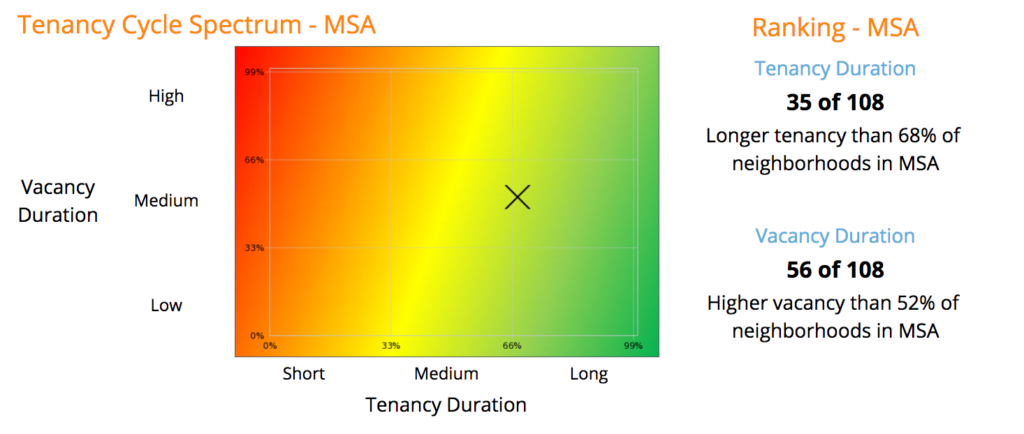 It also plots the expected tenancy duration against the expected vacancy for the local MSA. In my case, the local MSA is the nearest major metropolitan area but for all intents and purposes it might as well be on the moon. But it is interesting to see nonetheless.
Pricing
RentFaxPro is on a credit system similar to RentRange. A report will "cost" between 2 and 7 credits.
They offer two levels of rent estimate reports – A basic Rent Report for 3 credits and a Rent Package for 5 credits.
The good news is, RentFax will give you 5 free credits just for signing up so you can try the full Rent Package for free! Click here to get your free report.
See below for the full pricing schedule.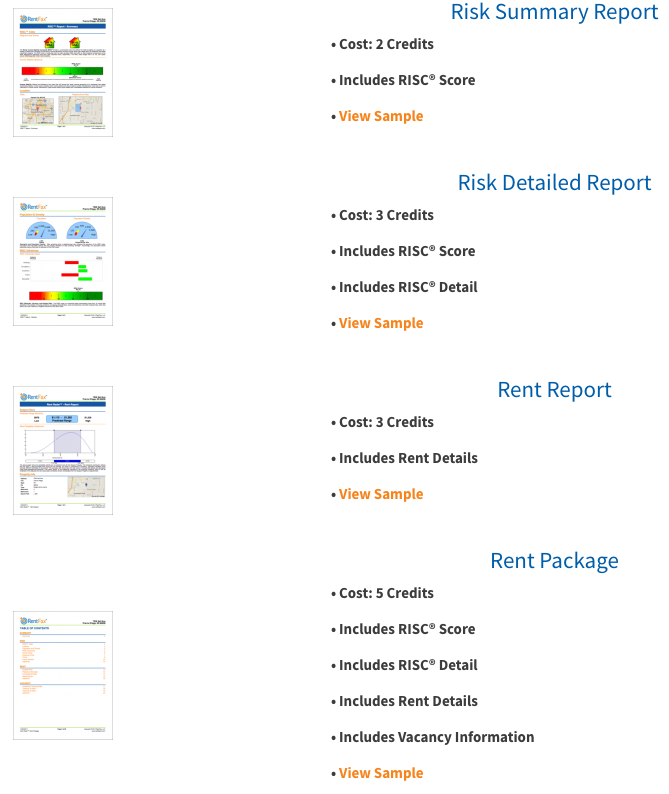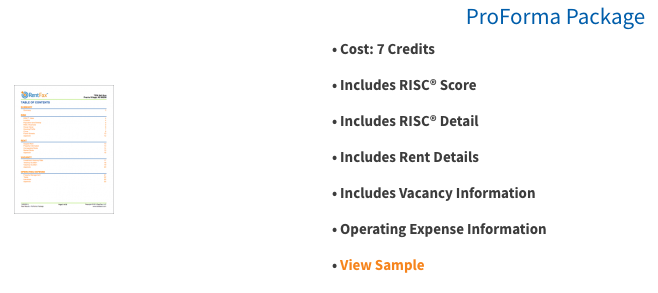 Edit 2018 – They recently updated their pricing. In the past you could buy as many credits as needed. They now offer a subscription model. See the new monthly pricing schedule below: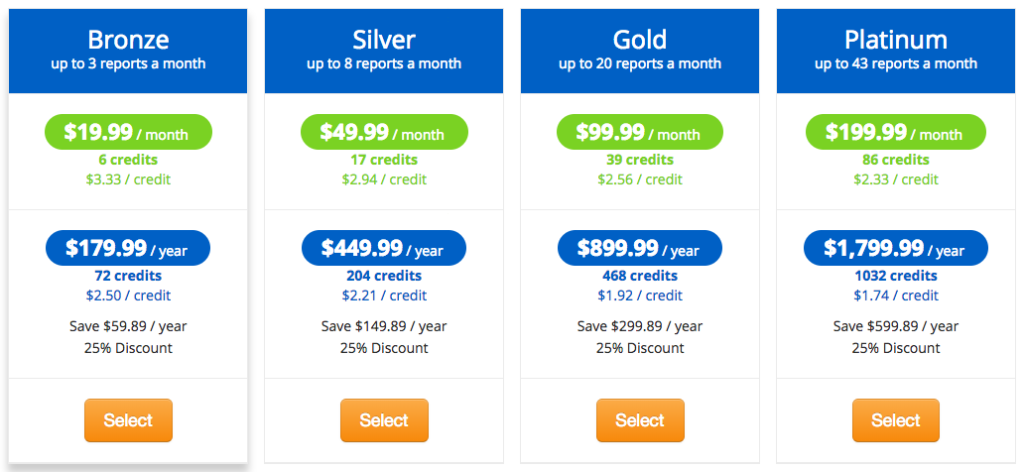 Rent Estimates Comparison Table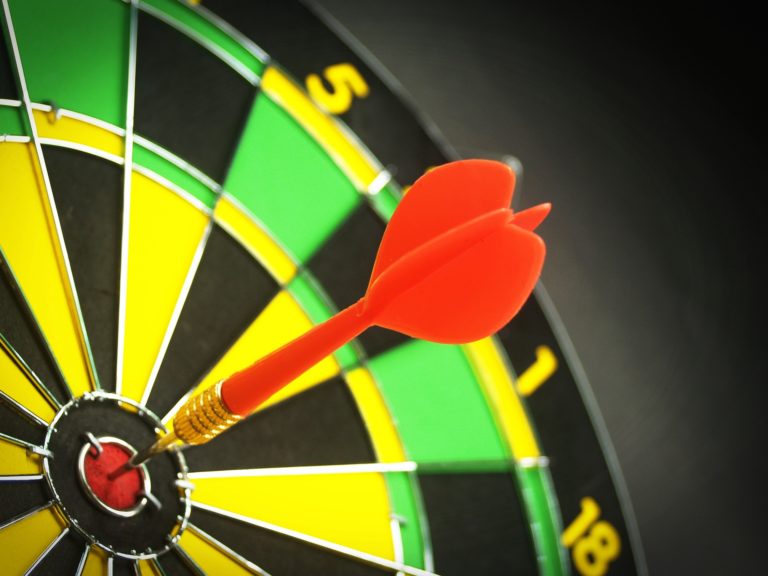 So how close is my current rent to the optimal price according to these rent estimate tools? I currently rent this property for $2,600 per month. Let's see how close they came to my actual rent.
| | LOW | HIGH | % RANGE | MEDIAN / AVERAGE | DIFFERENCE vs. ACTUAL |
| --- | --- | --- | --- | --- | --- |
| | $1,700 | $3,200 | N/A | $2,625 | +$25 |
| | N/A | N/A | N/A | $2,625 | +$25 |
| | $1,600 | $3,375 | 20th – 80th Percentile | $2,300 / $2,375 | -$300 / -$225 |
| | N/A | N/A | N/A | $2,460 | -$140 |
| | $2,200 | $2,750 | 15th – 85th Percentile | $2,445 | -$155 |
Zillow Rent Zestimate
Despite a wide range of rent estimates, Zillow came very close to the actual rent. They don't disclose the percentile range they use but it seems to be about +/- 25th percentiles using Rentometer as a guide.
My Rent Rates
My Rent Rates doesn't provide a range, only an average rent estimate. This estimate was also identical to the Zillow Rent Zestimate. In fact, they call it a "Zestimate" on their website. I'm suspecting a relationship here so I sent an inquiry to the folks at My Rent Rates to find out. Stay tuned.
Rentometer
Rentometer provided more details than some of the other free rent estimate services in terms of statistics. However, they also had a wide range of rents at +/- 20th percentile. Not very helpful in setting an absolute rent but it does tell you if you are in the ballpark of reasonability. Rentometer did miss the actual rent by the most at -$300 versus the current rent.
RentRange
Ironically, RentRange doesn't provide an actual range, only an estimate. At first glance, my rental appears to be a little overpriced but a closer look provides some reassurances.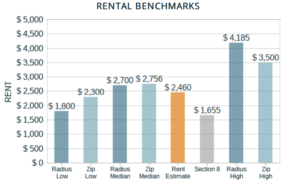 You can see from the benchmarks provided that the local median is around $2,700 – a little higher than my rent. And a little further into the report you will find that RentRange assumes a rental of average quality.
My rental had been completely renovated recently which could help explain why my rent is higher than the rent estimate they provided.
If you want to learn more about RentRange, you should see how Mark Ferguson of InvestFourMore compares RentRange versus Zillow rent estimates for multiple properties.
RentFax
The RentFax rent estimate came in at $2,445 or $155 under my current rent. According to the report, they include the percentile range that represents a 70% confidence interval. The RentFaxPro report also includes a distribution curve (see above) which seems to indicate that rents in my area are skewed to the lower end. This accounts for why they estimated my rent to be lower than the actual.
Honorable Mentions
In my research, I came across a number of other rent estimate resources. While they didn't make the cut for my 5 Best, they are worth noting.
Rent Jungle
Rent Jungle is a free rent comparison site geared towards renters. It has a very simple interface. Simply enter the property address, the number of bedrooms, quality of the rental and the rent range. Rent Jungle then tells you if you are getting a great deal or paying too much for rent. It also tells you what percent of renters pay more or less than you.
Although I like the ability to enter the quality of rental to make better comparisons, I did find the comps to be too far away to be trustworthy. Rent Jungle was looking at a 5 mile radius which in my area has a wide variety of neighborhoods. I prefer to stick with a tighter radius for my rent estimate.
RentZend
RentZend is powered by Zillow and features a very cool and free rental property analysis tool you can use to see if a property would make a good rental investment. However, there is no rent estimate feature so it's not going to help you set the best rent price.
Zilpy
Zilpy bills itself as "the other Z in real estate." Not a very reassuring slogan in my opinion (anyone remember "the other white meat"?). Marketed to real estate investors, Zilpy offers a number of features not found in other rent estimate tools but these are all premium.
To unlock access to features like neighborhood analysis, cash flow, ROI, vacancy rates, etc. you will have to pay about $10 for a one day access. However, Zilpy does offer a basic analysis for free.
I found Zilpy to be very glitchy. I couldn't run a report for my rental because it could not find the property. It didn't matter how I entered the address, it insisted the property was in another town. There was no way to correct the system.
It also pulled up a blank overview report but it did seem to include a rent range. I tried it on a couple of other properties and was able to get one of them to come up correctly.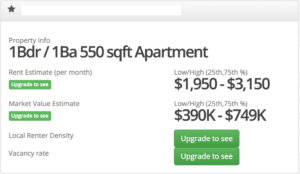 To get a rent estimate, you need to enter an address and then you will be prompted to fill in details like type of home, Beds, Baths and Square Footage. You will then be taken to a basic rent estimate screen.
This will include both a rent estimate and a property value range between the bottom 25th and top 25th percentiles. There are also options to upgrade to see more features.
In my opinion, Zilpy is OK to try for free but I would avoid paying for the premium features until they can work the bugs out of the system.
Putting It All Together
And the winner is…
Overall, I was very impressed with the thorough analysis provided by both RentRange and RentFax. I like RentRange because they include the vacancy analysis in their report. This is missing from the basic RentFax report.
But if you purchase the full Rent Package from RentFax for $25, you get a lot of great information on your local market that you won't get from the others. And it's only $20 for the full report if you buy 2.
I recommend you give both RentRange and RentFax a try. Try a free RentFax report so you can see the detail you get with a full Rent Radar report. The first report is free so there's nothing to lose. But you will probably not need all of the reporting detail in the RentFax report to justify the extra expense if you only need a rent estimate. Instead, sign up for RentRange using the promo code (AR25OFF) and get professional rent estimate reports for only $10.52!
After having tried both of their services, I was so impressed that I became an affiliate. I have been pleased with them and I'm sure you will be too.
How fair is my rent?
At first, I was worried my rental was priced too high because maybe the market had shifted. But the RentRange analysis included a rent growth rate for my local market and vacancy trends that confirmed my belief that rents are strong in my local market.
The detailed benchmarks included with RentRange helped me understand why the rent estimate came in lower than my current rent. Without these details I might have made a false conclusion that my rent was too high and made the mistake of lowering my rent next lease term!
However, when I run the RentRange report again, it will be through my Cozy Property Management service next time. It's worth the extra few bucks to have this all in one site.
But Don't Stop There
These rent estimate tools did a decent job of helping me understand how fair my rent is relative to recent activity in my local area. But to be certain, you need to go beyond the rent estimate reports. You need to look at the local competition available at the time of your vacancy.
To do this, I recommend also tapping into other resources such as Craigslist and the MLS or Realtor.com. Pull up rental listings and see how your property compares in amenities, features and condition. Visit some of the properties to see how well they show. Only then will you be able to confidently price your rental just under the market rent to maximize profits.
Want More Awesome Landlord Tips?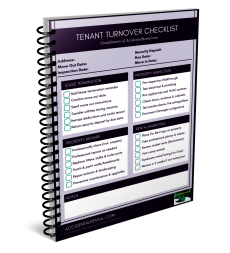 Sign up today for the monthly AccidentalRental.com newsletter and receive my 42-Point Tenant Turnover Checklist as my free gift when you sign up. It will help you save hundreds, maybe thousands on your next tenant turnover.