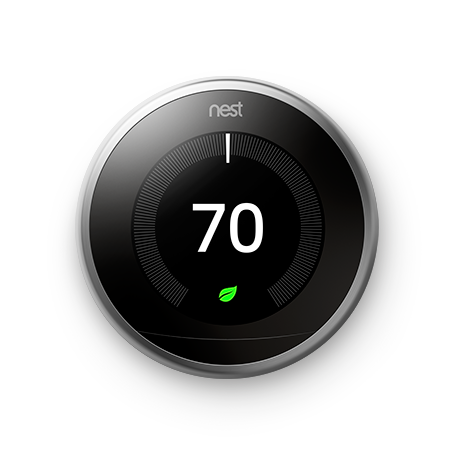 Are you thinking about installing a Nest thermostat in your rental or home?
I've recently been on a Smart Home upgrade streak. I just installed a Ring Floodlight Cam and Ring Doorbell but I hesitated to buy a Nest thermostat. They are not cheap and I wasn't sure it was compatible with my home or rentals.
However, I wanted to give it a try to see if it could lower my utility bills with the intention of rolling it out across my rentals.
In this article I will:
Tell you why a Nest thermostat might be right for your home or rental
Talk about the potential issues of installing a Nest thermostat without a common wire (AKA C-wire)
Show you what's included in the box and what extra tools you might need
Give you visual, step-by-step tips and instructions for mounting the Nest thermostat
Show you how to make the most of your Nest thermostat so you can save money and improve your ROI
Tell you if it was worth the investment for me
Does A Nest Thermostat Make Sense For Your Rental (Or Home)?
There are 3 main reasons to consider investing in a Nest thermostat for your rentals.
Savings For You Or Your Tenant
Perhaps the best reason to install a Nest Learning thermostat is for the potential money savings. Saving operating costs should be a priority for every landlord. It doesn't matter if you pay for the utilities or not. Either way you will benefit.
If your tenant pays for utilities, saving them money is a big selling point. It will help you rent your apartment faster and keep tenants longer, both of which improve your bottom line.
How Much Can I Save?
According to Nest, their customers save an average of 10-12% on heating and 15% on air conditioning or about $131 – $145 annually. This means you can potentially recoup the cost of the device in just over a year.
Obviously your savings will depend on a number of factors. If you use a Nest thermostat for both your heat and air-conditioning the savings will rack up all year long. Other factors such as type of heat, local utility rates and how efficient your HVAC system is will also impact the savings you will see.
Can't I Get Similar Savings From Programmable Thermostats?
You can theoretically achieve similar results with a basic programmable thermostat that costs around $50. This will obviously have a much better ROI. However, it's not always easy to remember to change the programming as necessary.
For example, when is last time you adjusted one for daylight savings time? Or have you ever temporarily adjusted the thermostat off schedule? That adjustment can go on for hours when it's not necessary.
A smart thermostat like the Nest Learning thermostat will actually make these adjustments for you. You don't have to remember. It knows when you're home or not.
With features like Home/Away Assist it even knows when you're coming home or when you're about to leave. It takes the human factor out of the equation so it's much more efficient. More on this below.
Even if you are diligent and always adjust your simple programmable thermostat to maximize savings, a Nest thermostat will do more to help your rental's bottom line.
Attract And Keep Better Tenants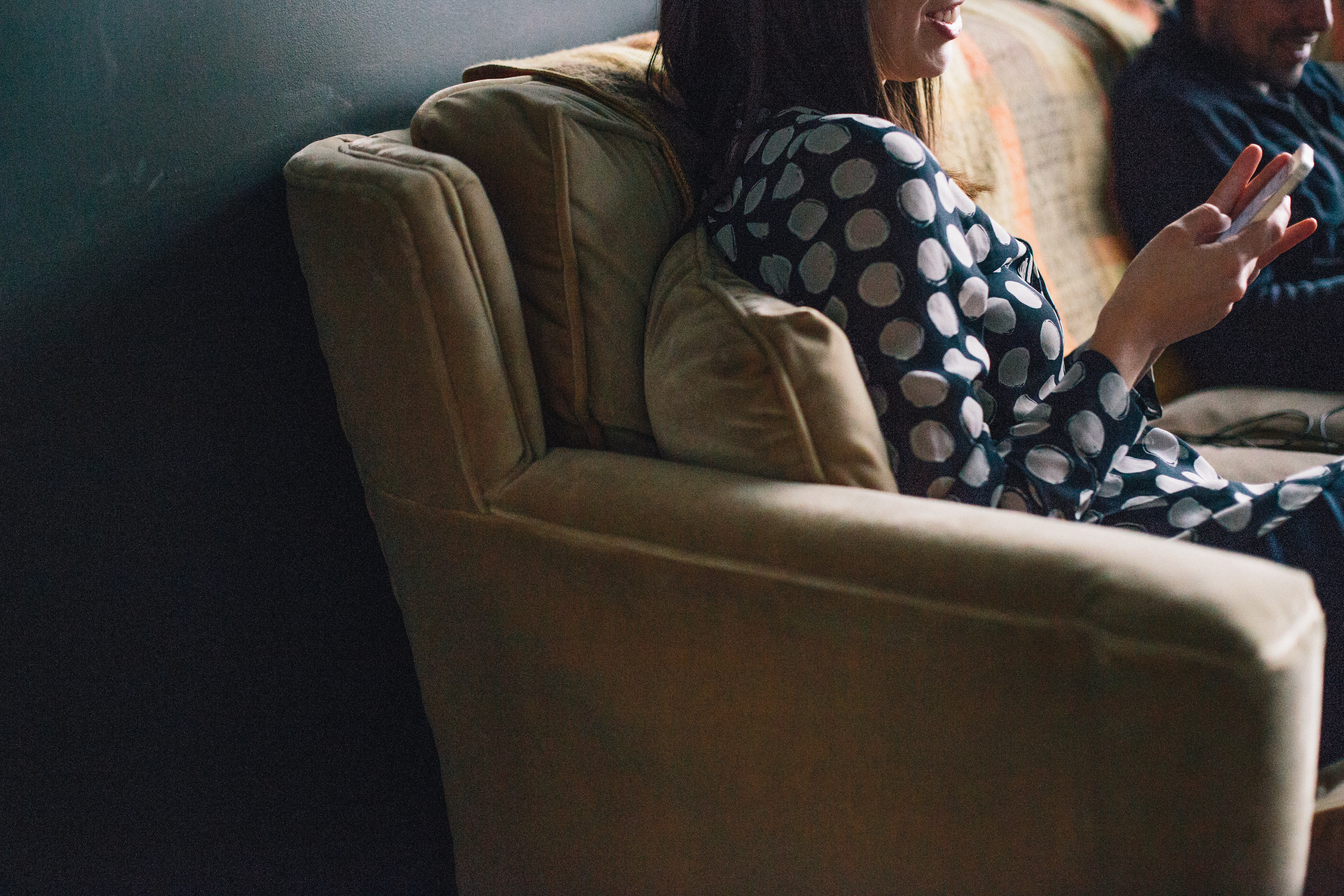 In my recent article covering the Ring Video Doorbell and the Ring Floodlight Cam, I mentioned how smart technology is becoming an attractive feature for millennials. Advertising your rental as a "smart home" will help you attract and retain better tenants. This can improve your bottom line dramatically.
According to Buildium's 2017 Renters Report, 30% of renters consider energy efficiency to be important when choosing a rental.
SoftwareAdvice.com conducted a similar survey and found that a Smart Thermostats like a Nest thermostat ranked among the most compelling smart devices to offer for those likely to rent.
Although I'm not aware of any published studies, I strongly suspect that all else equal, that an apartment advertised with Smart Tech will receive more, better qualified applicants and will rent quicker than an apartment without those features listed. I might just try a non-scientific experiment during my next vacancy so stay tuned!
But it's not just about the cool factor. There are other features of the Nest thermostat that your tenants will appreciate… and pay for.
Tenants Love (And Pay For) Convenience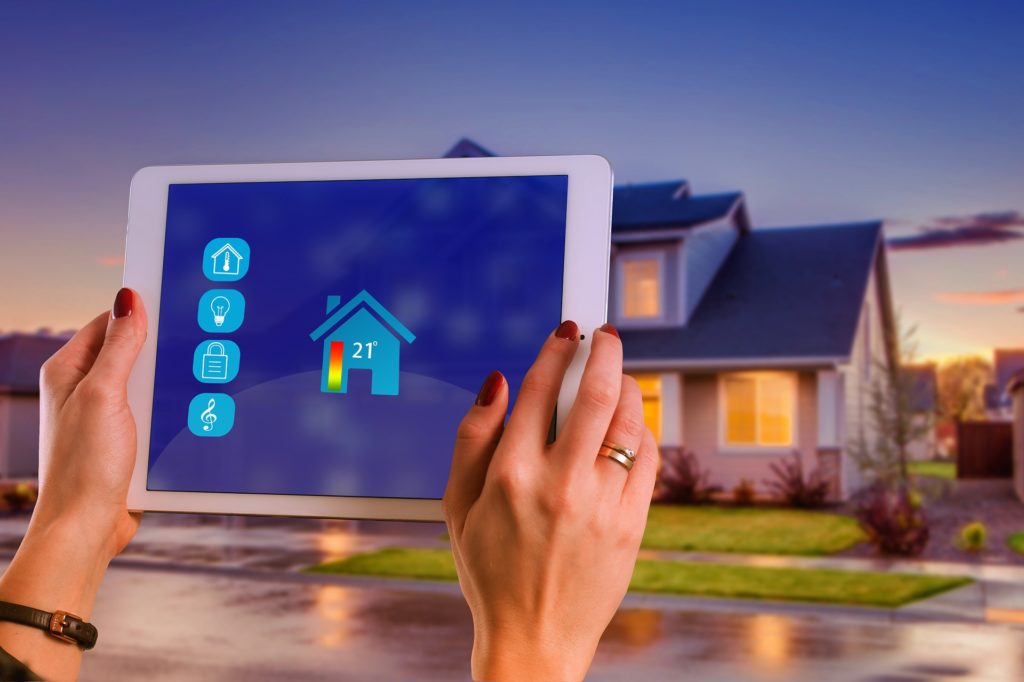 Everyone appreciates convenience and most are willing to pay for it.
Here are a few of the convenient features of a Nest thermostat that your tenants (or you) may find well worth the premium price.
Nest thermostat learns your patterns in a few days – after that you don't have to adjust it unless you want to
Nest thermostat is super easy to use – simply turn the dial to adjust the temperature
Never worry about changing the thermostat temperature when you leave the house
Change the temperature anytime from anywhere with your phone
Create and adjust a temperature schedule from your phone
Get a full weather report with a simple push of the Nest thermostat
You can simply ask Alexa to turn up the temperature
Nest thermostats know the outside temperature and can make adjustments automatically
Nest thermostats tell you the temperature when you walk by
A big, bright display means you never have to squint to read the temperature
Other Cool Benefits Of A Nest Thermostat
Here are a few other cool features on a Nest thermostat your tenants will appreciate:
Lock feature allows you to lock in a temperature range with a security pin. Roommates or tenants without the pin can still use the device but can't change the temperature beyond the range you set.
Early On feature means you never have to come home to a cold or hot house again
Air Wave technology. This uses the cool air left over after the air-conditioner shuts off. This cuts the time the compressor is running by 30%. Your programmable thermostat can't do this.
True Radiant technology. Nest thermostats know if you have radiant heat and it understands how long it takes your particular system to heat up. It takes the guess work out of programming a thermostat.
Nest Thermostats know the indoor humidity level and the Cool To Dry feature will turn on the AC to remove excess humidity
The little green leaf icon tells you when you are saving energy and money
You can pull up home energy reports at the touch of a button
Nest Sensor Thermostats can be placed in rooms throughout the house to ensure optimal temperature in each room 
What Are The Drawbacks To A Nest Thermostat?
Nest thermostats can benefit landlords and tenants alike but they are not without their drawbacks. You should understand what issues you might encounter before installing one.
Premium Price
The biggest drawback to a nest thermostat is the price. At around $250 each they are not cheap. Especially when a simple programmable thermostat only costs about $50 and other Wi-Fi-enabled thermostats can be found for about $150.
However, you don't have to pay $250. They usually go for about $220 but I was able to purchase mine during a Black Friday deal. It only cost me about $180.
You might also be able to get a big discount (or even a free Nest thermostat!) through your local utility company. Visit your local energy supplier's website or the Nest Rebates & Rewards page to see if you qualify.
Software Glitches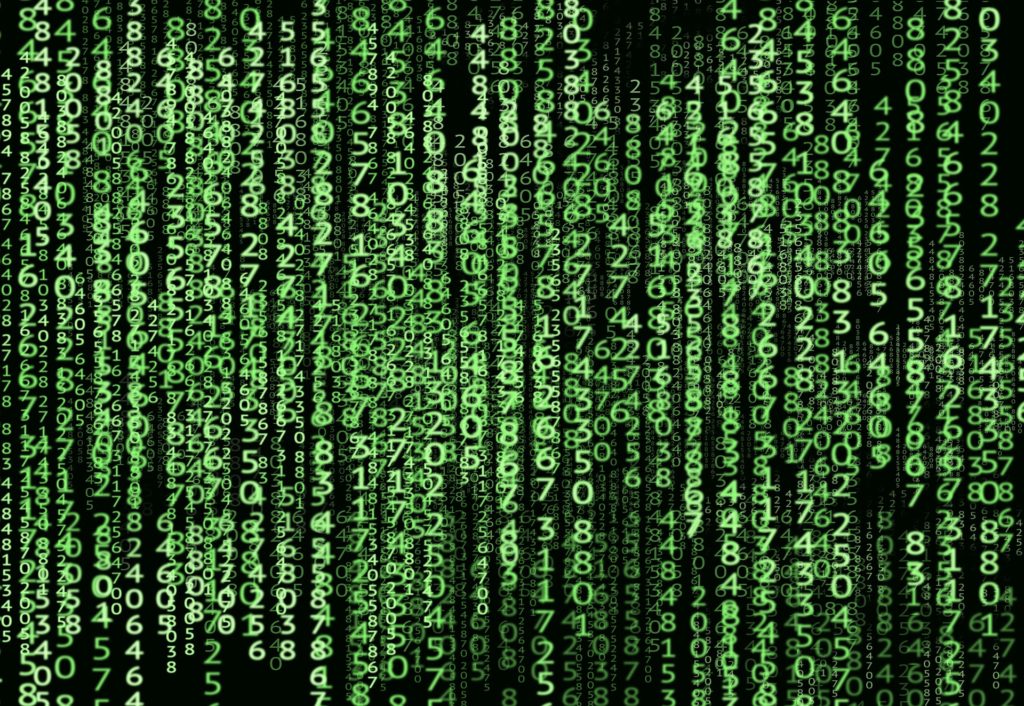 Another drawback of a Nest thermostat, as with any other technology, is that it can be glitchy. I don't think this is unique to a Nest thermostat but the more complicated the system the more things that can go wrong.
Some users have reported issues after having the system run software updates. While it seems to be in the past, that doesn't mean it won't happen again.
These things should be temporary as the companies usually fix them fairly quickly. However, that's little consolation in the middle of a snowstorm and you have to explain to your tenant that it's a software problem and it's out of your control.
Pro Tip. Keep your old thermostat handy at each rental just in case your Nest thermostat experiences an issue related to software or not having a Common wire (see below). You can always switch out the thermostats in the event of a weather related emergency. This should keep your tenant happy.
Potential Issues When Installing A Nest Thermostat Without A Common Wire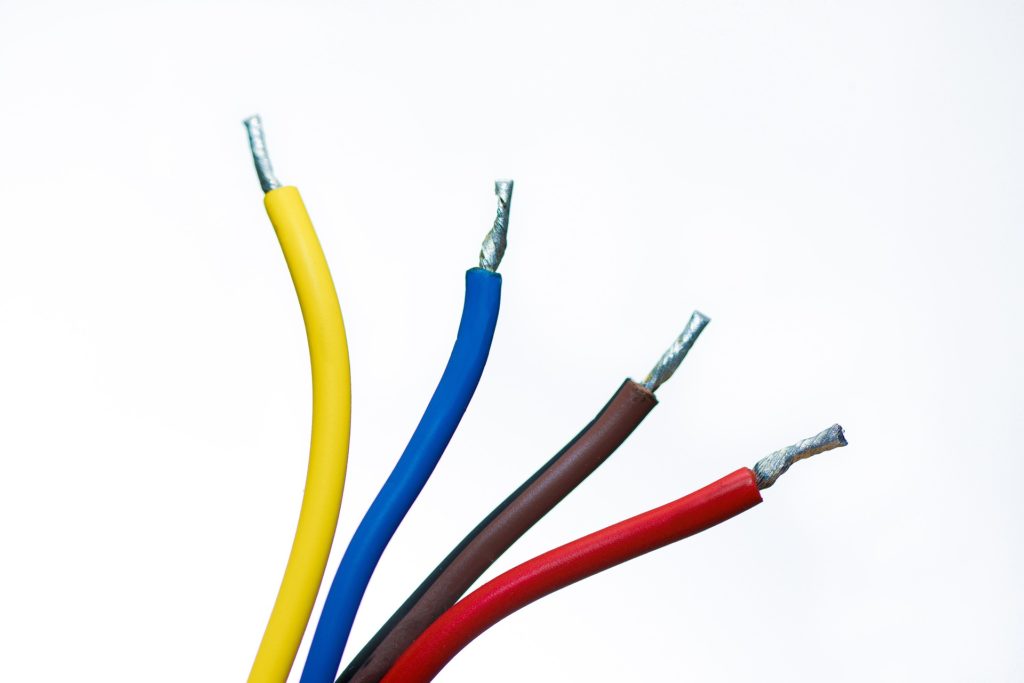 The biggest potential drawback to a Nest thermostat is the fact that it uses an internal battery. This is both a plus and a potential negative.
If you have an older home or rental, it's possible you don't have the necessary common wire (aka a C-wire). This wire provides the power necessary to run the extra features of today's smart thermostats.
Don't worry though if you have your heart set on a Nest thermostat. You can actually install a Nest thermostat without a c-wire but you should be aware of the potential issues.
The Nest thermostat has an internal battery that charges itself from the HVAC system. The battery is used to power the display, wifi connection and other features. It can run out of juice if the HVAC is not in use for a while.
To charge itself, the Nest thermostat quickly turns on and off the HVAC without actually cycling it. This gives it just enough juice to continue operating.
Signs Of An Issue With Your Nest Thermostat
Some people have reported issues with their Nest thermostat when it wasn't hooked up to a common wire power source. This tends to happen during moderate weather when the HVAC isn't being used and therefore the Nest thermostat is not receiving a charge.
Common Signs Your Nest Is Struggling Without A Common Wire:
HVAC is making clicking or other sounds as if it is turning on and off rapidly
Heat or AC is always on
Your Nest thermostat says the HVAC is "delayed"
HVAC fan turns on and off repeatedly
HVAC fan is always running or won't turn on
Some owners have reported hearing their furnace turn on and off briefly periodically.
More on this issue can be found in this comprehensive article on the topic.
Fortunately, I have not experienced this problem yet. However, I only have my Nest thermostat hooked up to my furnace and it will not be getting a charge all summer long. I'm expecting to have issues in April when my furnace stops running. Stay tuned!
What Can I Do If I Experience Issues?
Even if you don't currently have a Common wire available you have several options:
Check inside the wall and the HVAC control panel to make sure you actually don't have a C-wire. Sometime's it's just tucked away because it's not being used.
Install a C wire and run it from the furnace to the thermostat. This requires inside wall access from the furnace to the thermostat.
Use a Venstar Add-A Wire system. This will adds a wire to a 4 or 5 wire system without having to pull the wires through the wall. Unfortunately, it doesn't work with fewer wires.
Use a 24v Power Adapter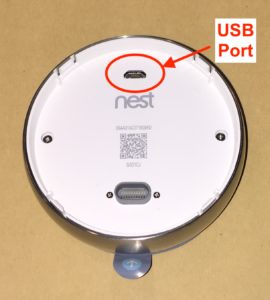 You can charge the Nest Thermostat via the USB connection on the back. People report that a charge can last two months. This will be enough to get your through the in-between seasons when an HVAC isn't necessary.
You can also preserve battery power by disabling the Farsight function which turns on the Nest thermostat display whenever it detects nearby motion.
What's In The Box
The Nest Learning thermostat comes nicely packaged and well protected.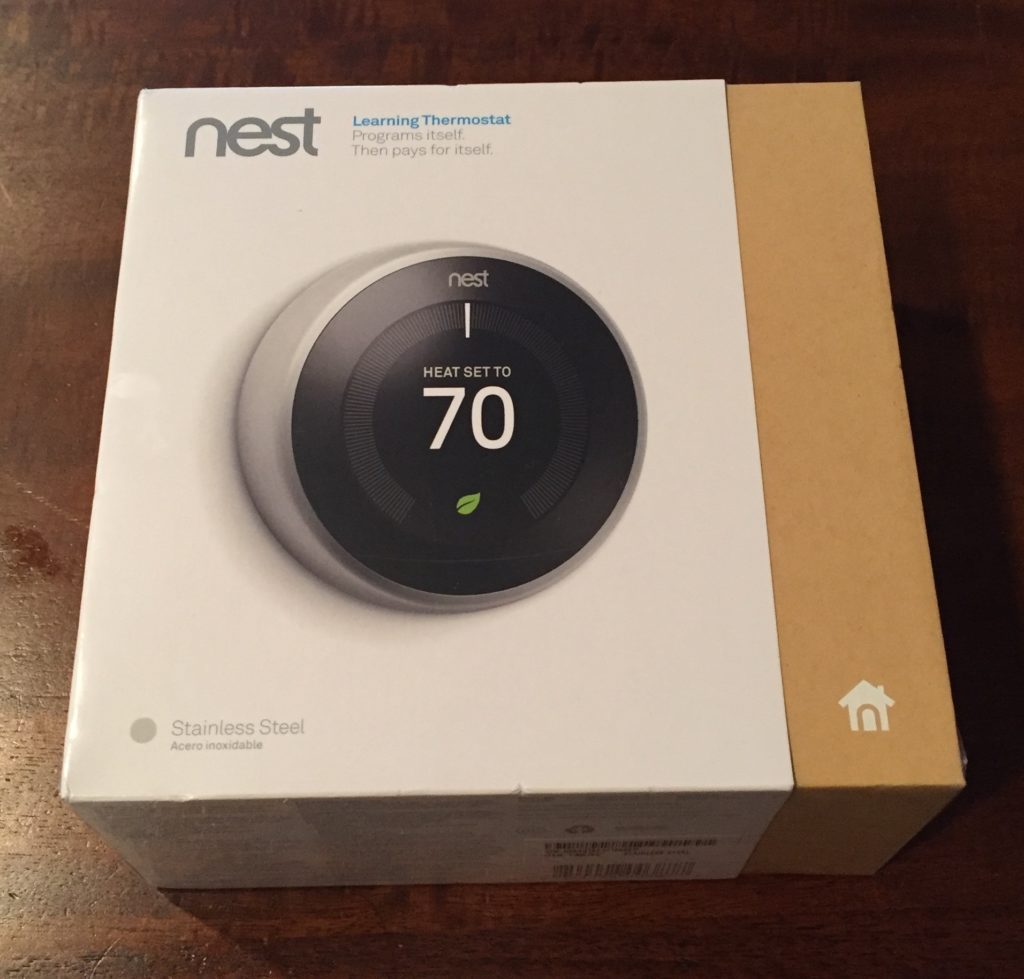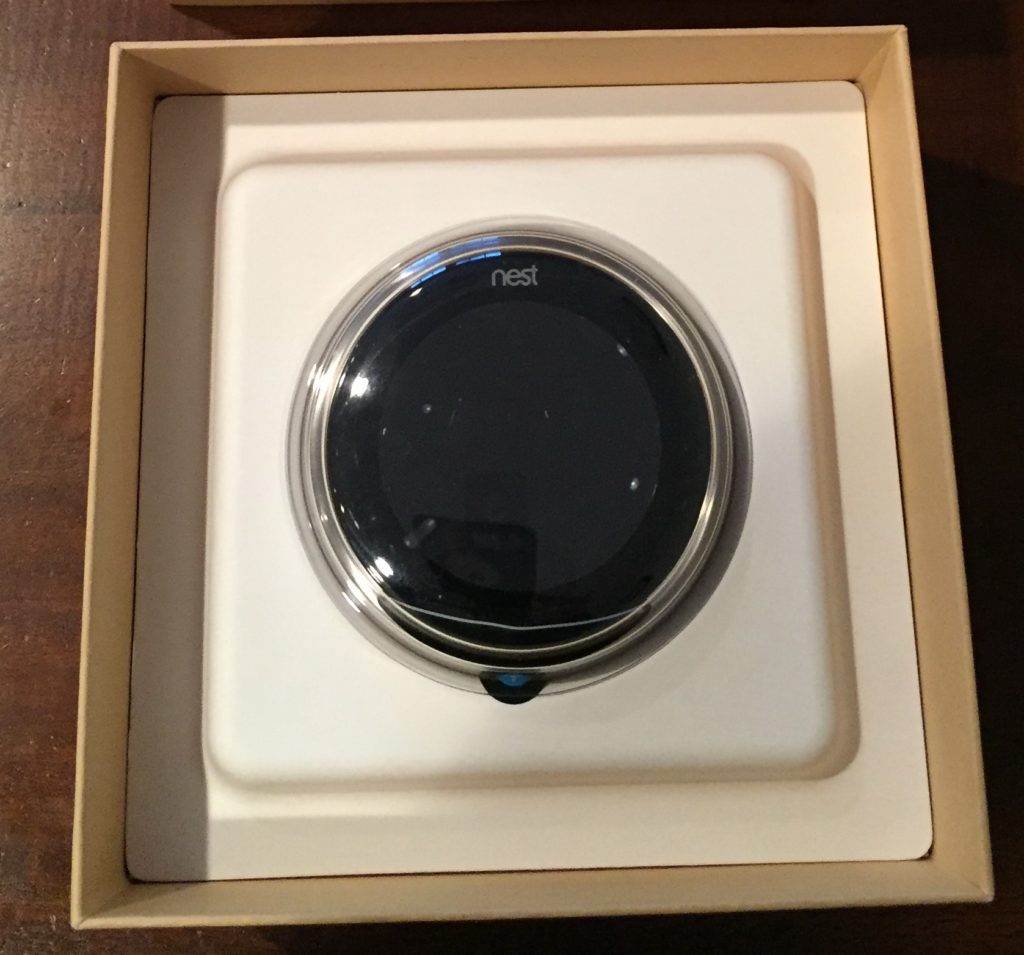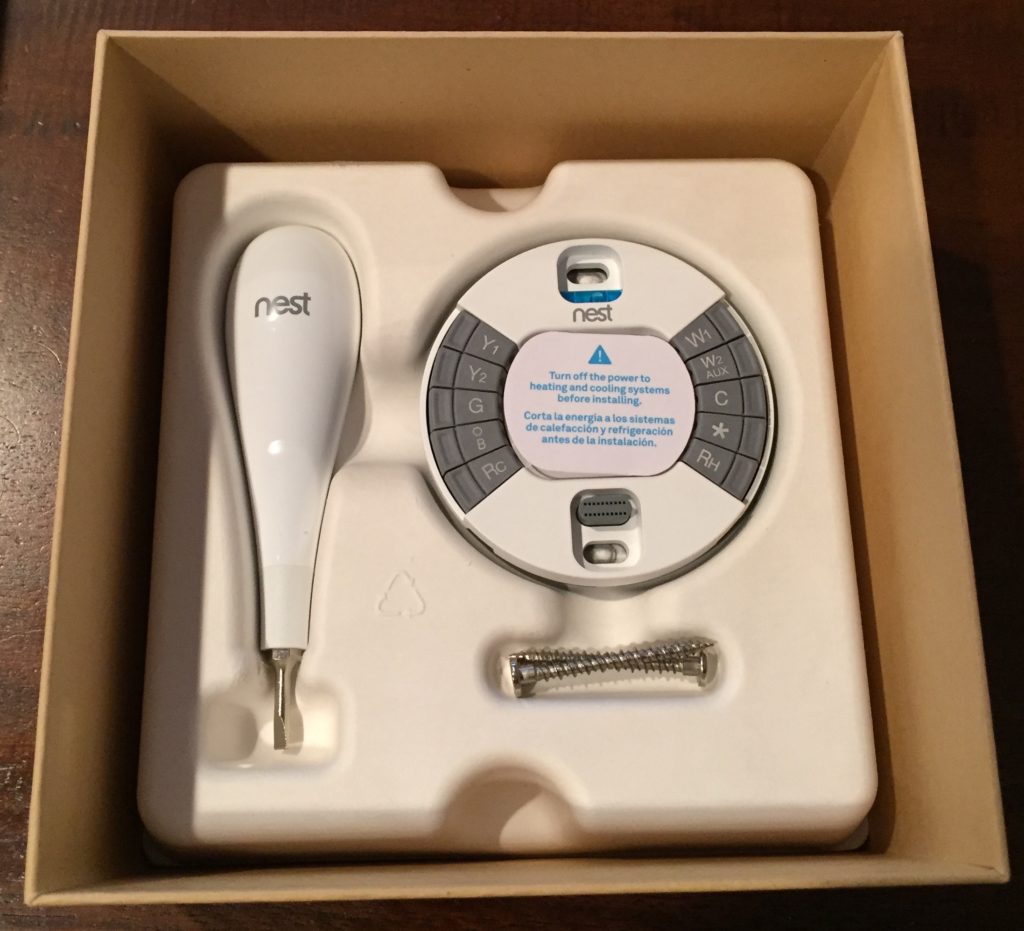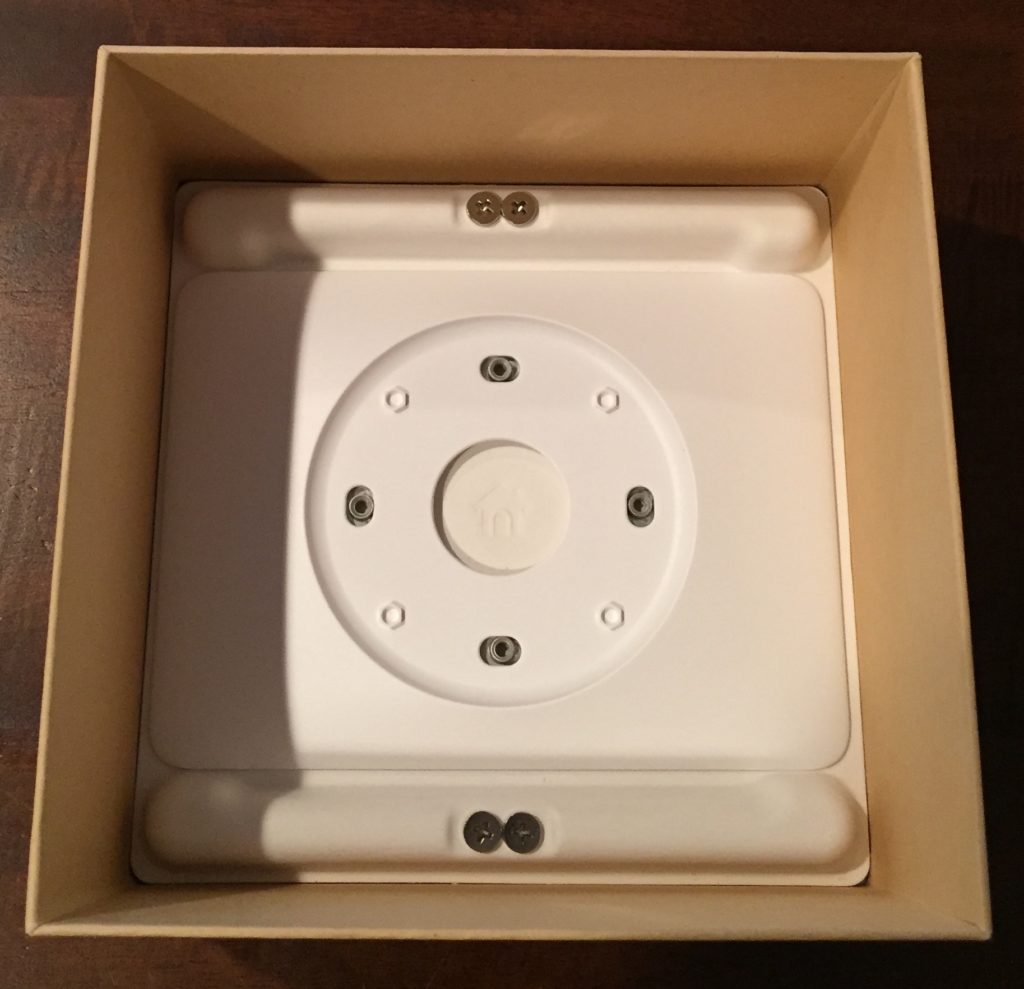 Your Nest thermostat comes with pretty much everything you need – even the screwdriver. I only needed a pair of wire cutters to clean up the existing thermostat wires.
Here's exactly what you will find in the box.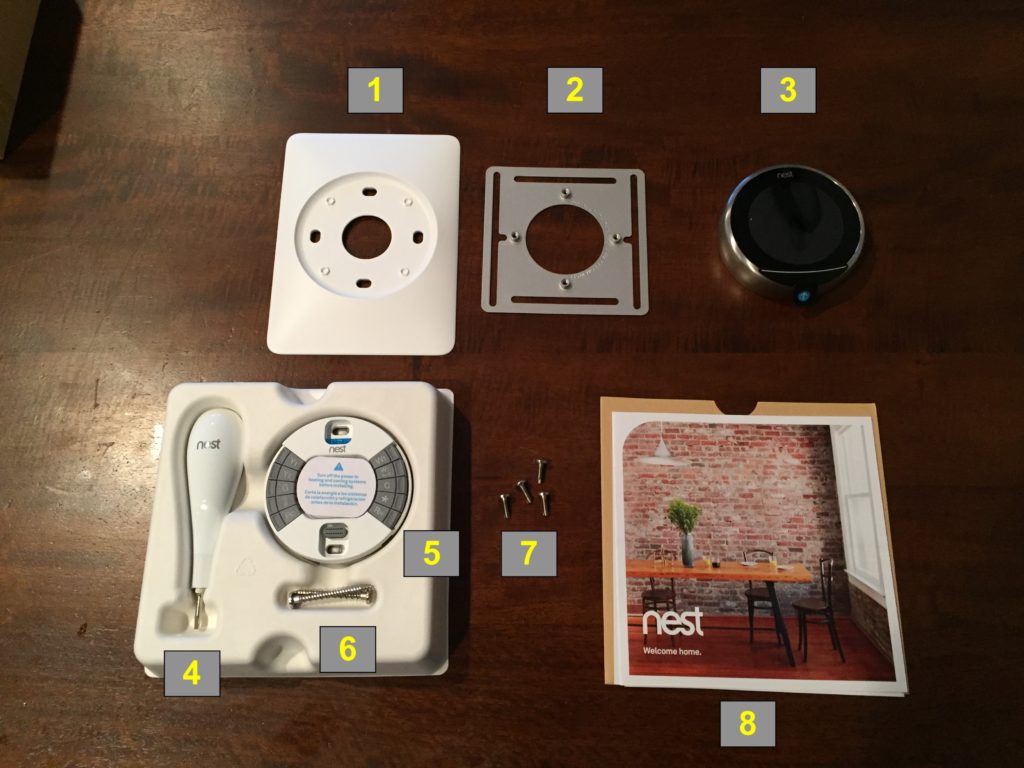 White cover plate to hide the hole if the Nest thermostat doesn't cover it.
Electrical box mounting hardware
The Nest thermostat device
Nest screwdriver. Why do tech companies include these?

Mounting plate
Drywall / Wood screws

Electrical box mounting screws
Nest thermostat booklet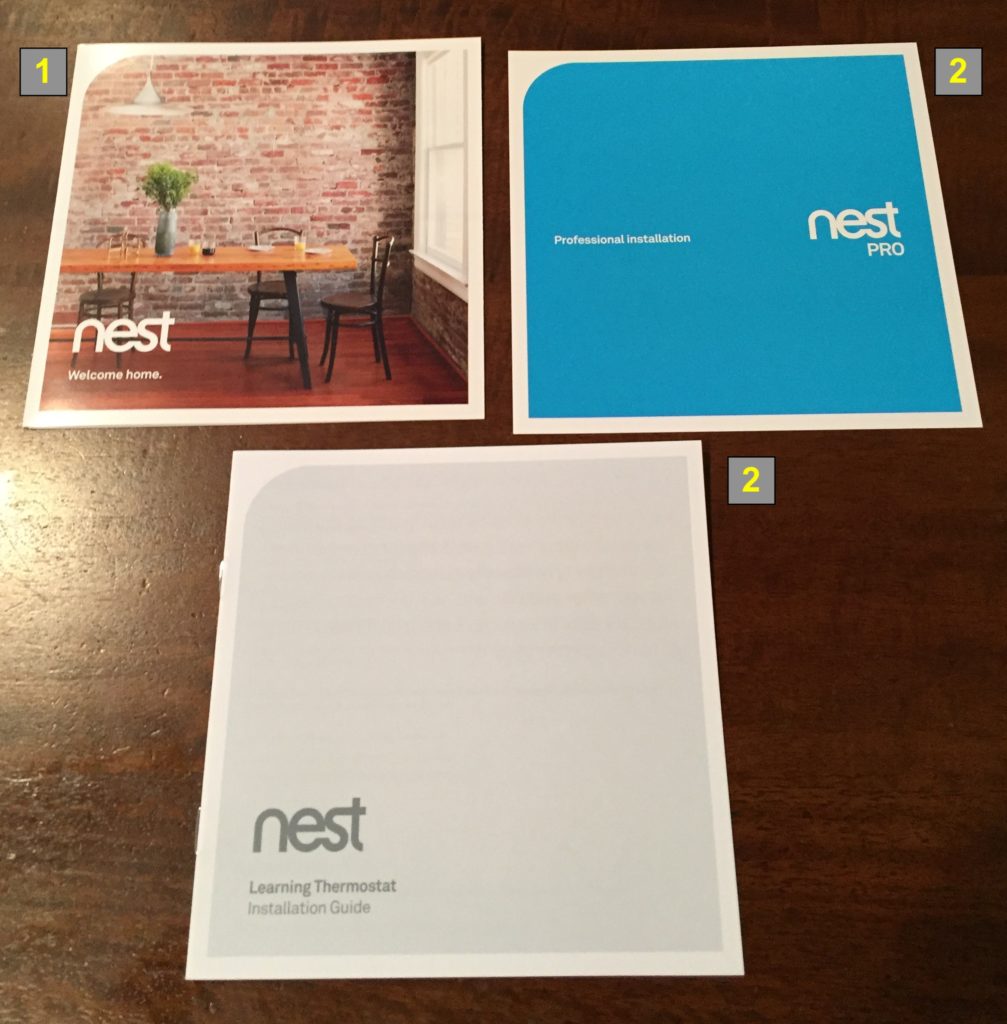 Nest thermostat booklet
Pro installation materials booklet
Installation guide
Installing Your Nest Thermostat
I am really impressed at how companies like Nest and Ring have made their devices so simple to install that even a not-so-handy landlord like myself can do it.
Confirm Nest Thermostat Is Compatible With Your System
Nest claims that their 3rd Generation Nest Learning Thermostat is compatible with 98% of HVAC systems but you should confirm this before you buy one.
To do this, simply remove your current thermostat from the wall and note how many wires there are what they are connected to.
Here's what mine looked like.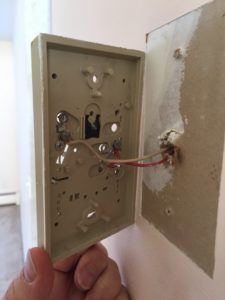 To determine compatibility, check the Nest website.
You may still have questions about how the wiring will work with the Nest thermostat versus your current thermostat. Don't worry. Let Nest send you a personalized custom wiring diagram.
Here's what mine looked like. Note I only have a two-wire system.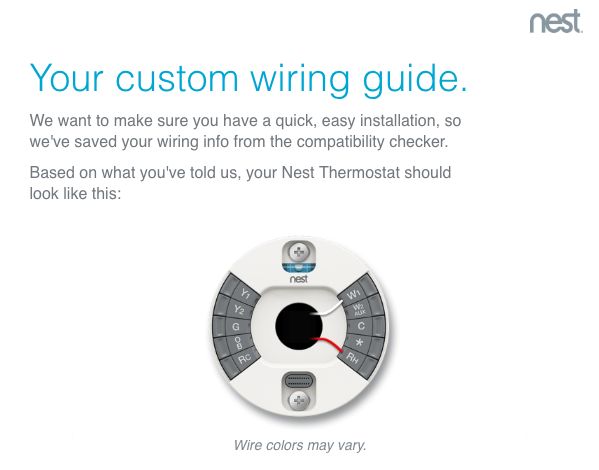 All I did was send them the model of my current thermostat and a picture of the wires coming out of the wall. That was all the information they needed to tell me exactly which wire went where on the Nest learning thermostat.
Installing Your Nest Thermostat
Step One – Turn Off The Power
Turn off the power to your current thermostat and furnace or air conditioner or both. You can do this by tripping the breaker that powers the HVAC in your rental or home.
Even though the voltage is low, you still need to shut off the power. That's because you can actually do harm to your HVAC system when you're messing with these wires.
You can ensure the wires are no longer carrying current with this device.
Step Two – Remove Old Thermostat
My house isn't that old but apparently this thermostat was state-of-the-art in 1983.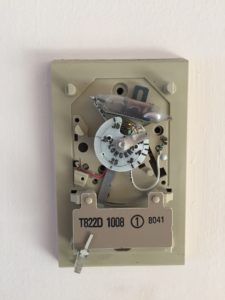 Take a picture of the wires on your current thermostat. Label them with the handy stickers provided by the Nest Learning thermostat materials. This way you won't lose track later.
Step Three – Mark Holes For The Mounting Plate
The Nest thermostat comes with a handy level on the mounting plate so you can easily mount it straight.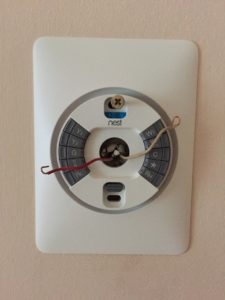 Simply pull the thermostat wires that are in the wall through the hole in the center of the mounting plate. Put the mounting plate up against the wall and mark the appropriate holes.
Step Four – Attach Mounting Plate And Wall Cover
This step is pretty straightforward. Put the mounting plate into the wall cover and screw it into the wall where you marked the holes.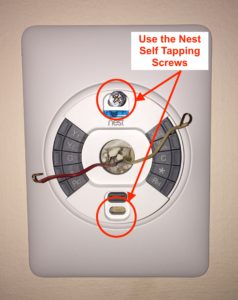 The Nest Learning Thermostat wall screws are self-tapping and can go directly into drywall. No need for wall anchors.
Step Five – Attach Wires To The Mounting Plate
This is really simple if you got the custom wiring diagram directly from Nest.
Simply clean the ends of the wires and attach the wires according to the diagram.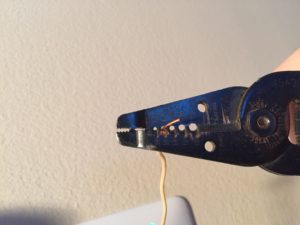 Be sure to strip the wire just enough to have a clean connection and not leave too much exposed wire once it's inserted into the mounting plate.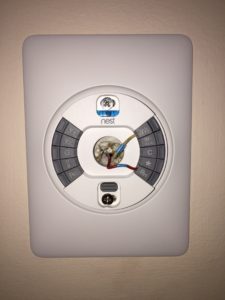 Note that the wires are pushed into the mounting plate. To do this you simply the press the button to the side of the letter and push the appropriate wire inside.
Also note that the little gray buttons do not snap back once the wires inside as you might expect they would. Give them a gentle tug to make sure the wires are holding firmly.
Step Six – Attach Nest Learning Thermostat
This is the easiest step of all. Simply line up the nest thermostat connection plug with the receiving end of the mounting plate and push it in.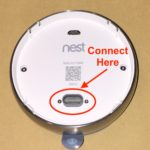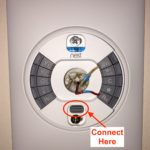 That's it! Now turn on the power and you're ready to set up your new Nest thermostat!
Setting Up The Nest Thermostat
You will spend more time setting up your Nest thermostat than you will spend actually installing it.
But don't worry, the Nest Learning Thermostat walks you through the process step-by-step. All you need is to have your smart phones ready so you can pair them with the Nest thermostat.
Nest Thermostat Set Up Steps: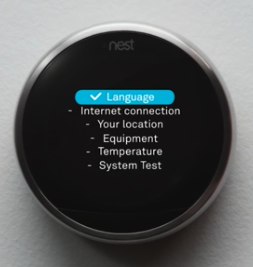 Choose your language
Connect to your WiFi
Enter your location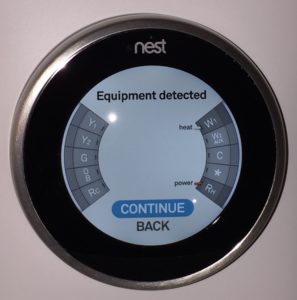 Detect the HVAC equipment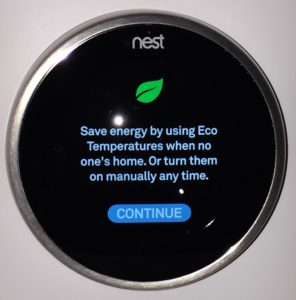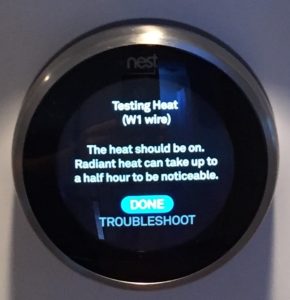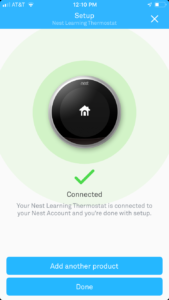 Set up the Nest app and connect the device to your phones
Has My Nest Thermostat Saved Me Money?
I've been using my Nest thermostat for a couple of months for heat. Here are the results I got.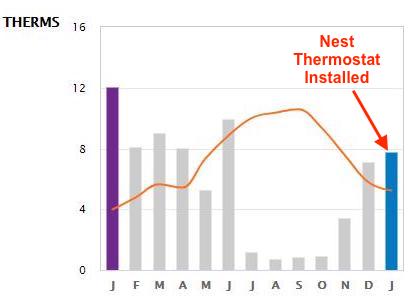 According to my first utility bill after installing the Nest Thermostat, I used over 31% less energy than the same month last year. The average temperature was 8° warmer so that certainly contributed.
However, I was also on vacation for about 10 days this same month last year so that bill was understated. Between the warmer weather this year and the understated bill last year it was probably a wash.
All in all I would say the Nest thermostat is saving me big bucks but is it enough?
Let's see.
Potential Savings With Nest Thermostat Installed
If my bill was 30% higher it would have cost me an extra $90 approximately. Projecting this out for the next 2 months, I could save another $180.
According to my rough calculations, my Nest thermostat might be saving me $270 every winter! Considering I only paid $180 for mine, it's already paid for itself in the first two months. Everything else is pure profit.
Multi-Zone Nest Thermostat Hookups
My home has multiple heating zones so I went ahead and installed a second one in the upstairs level. Here's what the Nest app looks like when you have more than one Nest device.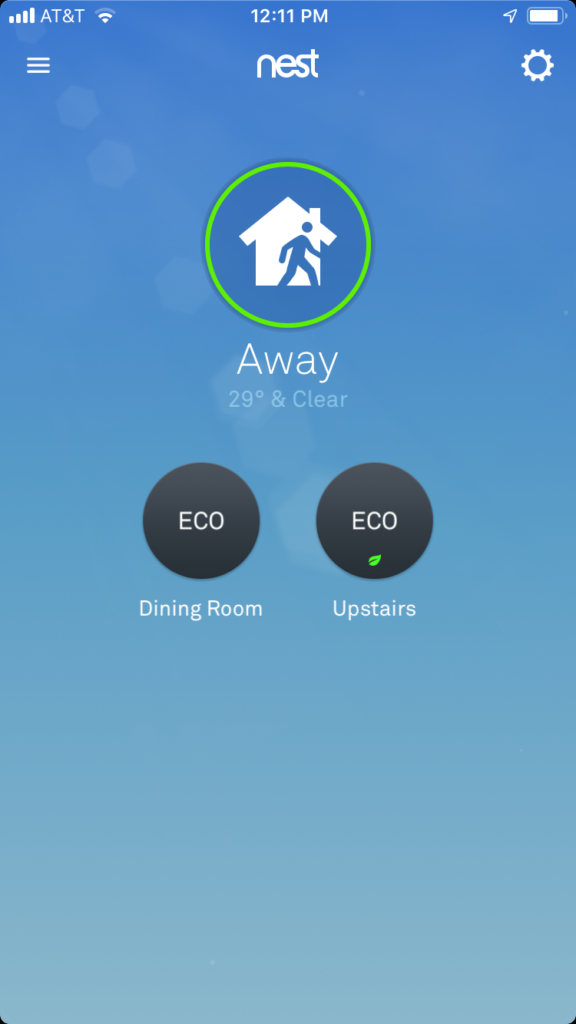 I don't think it will result in nearly as much savings as the first Nest thermostat but think it will only help.
8 Ways To Save With A Nest Thermostat
Your Nest thermostat offers several ways to make the most of its energy saving potential. Here are few things to do when you set up your Nest thermostat.
Teach Your Nest Thermostat
If you have an unusual schedule when you happen to install your Nest thermostat, it will learn this. Teach it the correct schedule by continuously adjusting it to your "normal" routine. It will quickly remember these adjustments and get it right.
Adjust The Schedule
When I first opened the Schedule feature I was a little overwhelmed at first. It looked way too complicated. It's actually very simple.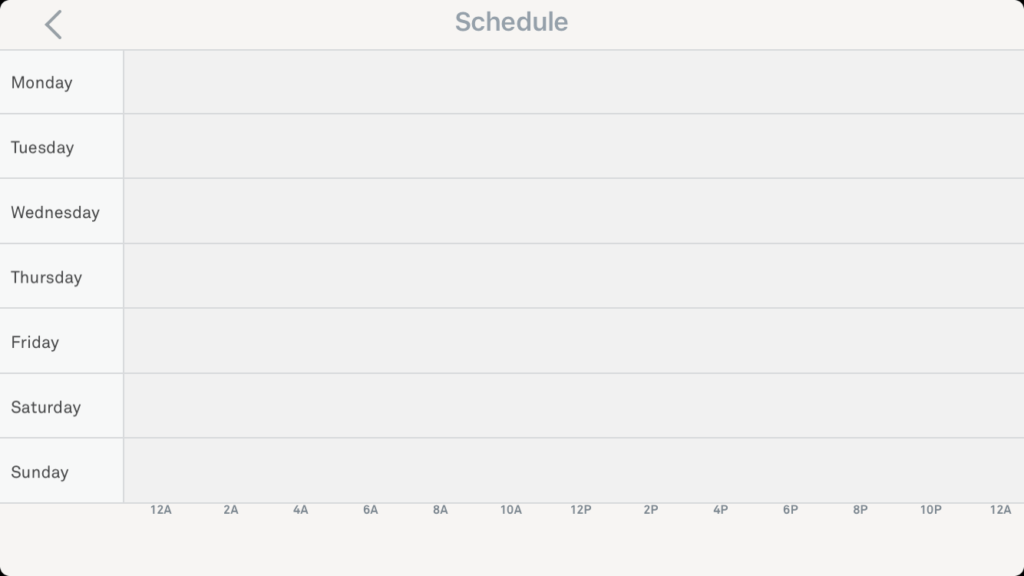 At first your Nest Thermostat will have a blank schedule like the one above. Over time it will look more like this.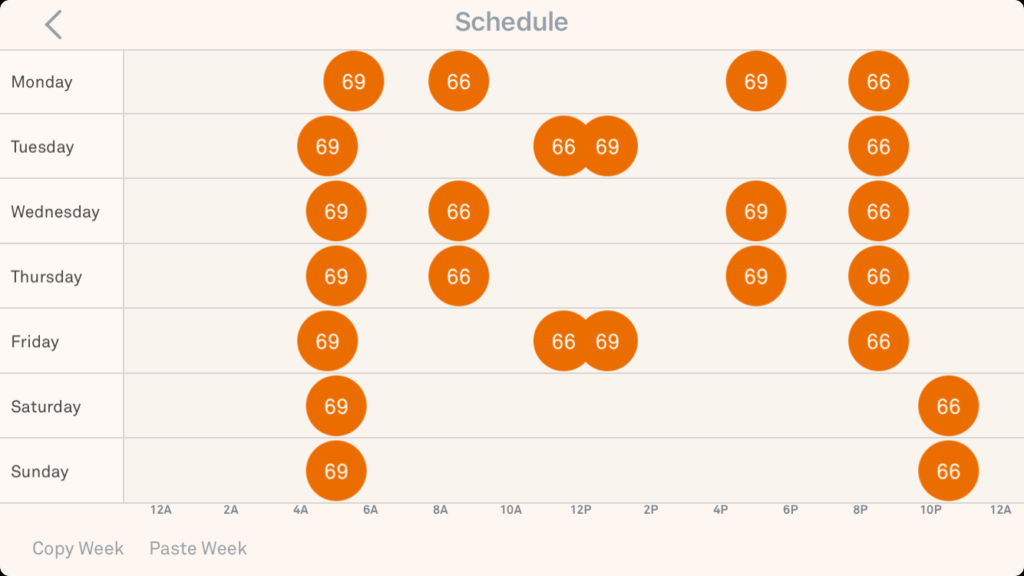 You can "correct" your Nest Thermostat schedule by moving the dots around and changing the temperature values.
Set The Eco Temperature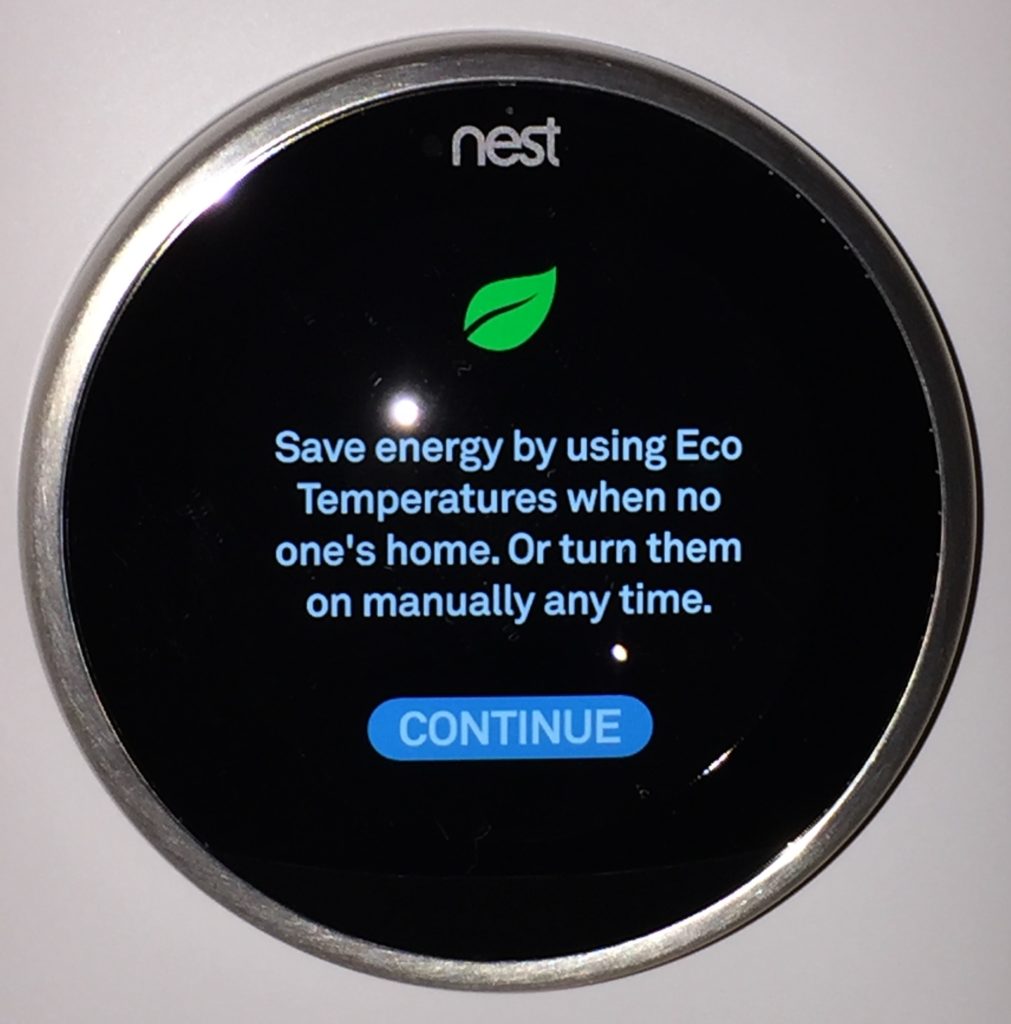 Set the right temp. Try something lower/higher than you might normally set to see if you can notice the difference. Use this setting when on vacation.
Look For The Leaf
Saving energy and money with a Nest thermostat is a little like a game. If you make energy efficient adjustments a little leaf will appear. See if a 1° adjustment makes the leaf appear.
Enable Auto Away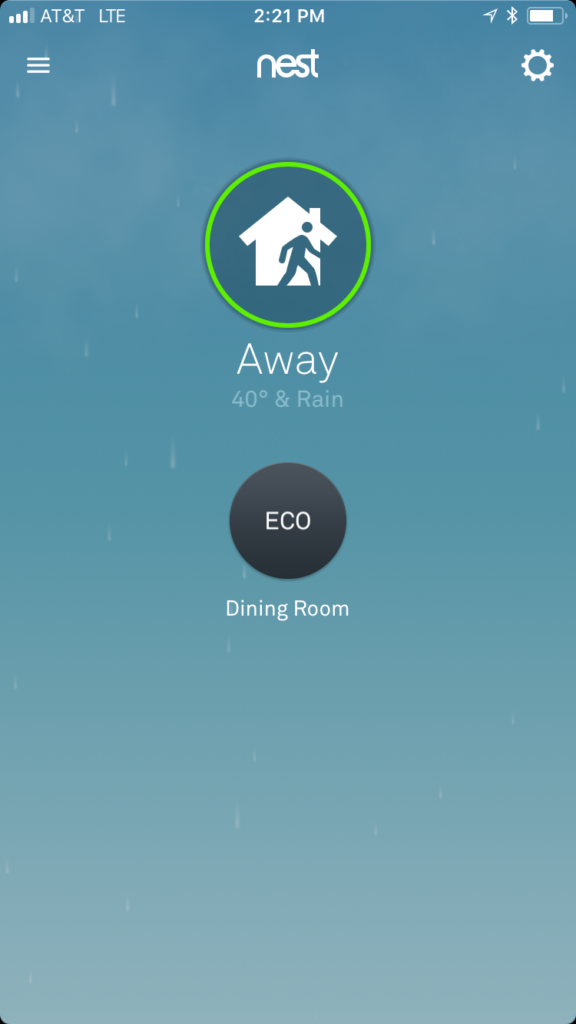 Let the Nest App access your phone's location so it knows when you are home or away. Nest will remember to adjust the temperature even if you forget.
It's also a good idea to add other household phones as well. This way your Nest thermostat won't accidentally turn the heat down on your wife and baby when you leave for work!
Monitor Your Energy History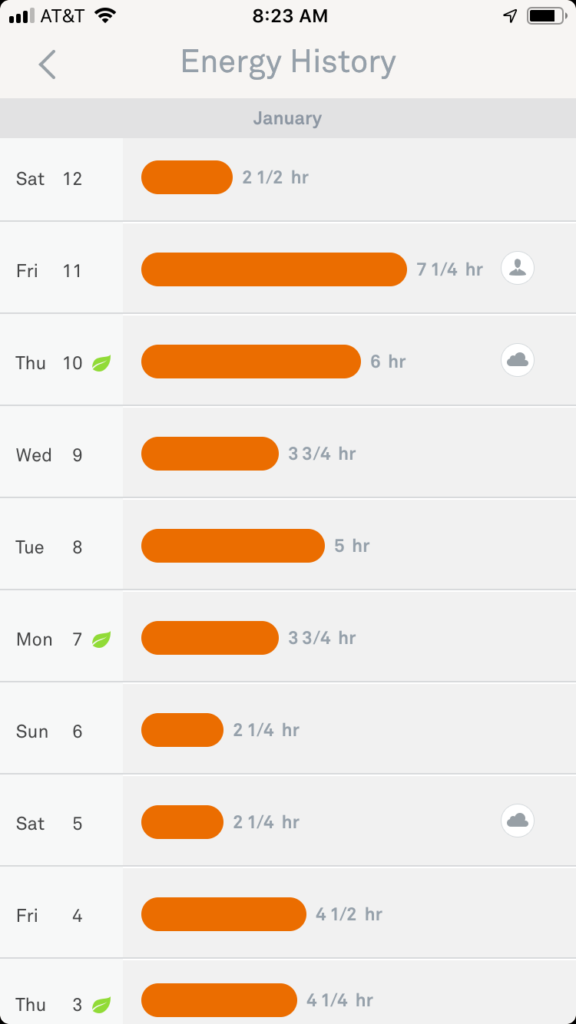 See how much you are saving with the Energy History report. Could you be doing even better?
Use Multiple Nest Thermostats
If you have more than one heat or cooling zone, then consider installing a second Nest thermostat. This way you can set different energy efficient schedules that make sense for each zone.
Set Energy-Saving Triggers
You can use your Nest Thermostat to trigger other energy-saving actions by integrating it with Applets from IFTTT.com (If This Then That).
There are a number of "Applets" to use the Nest Thermostat Away feature to set triggers that save energy.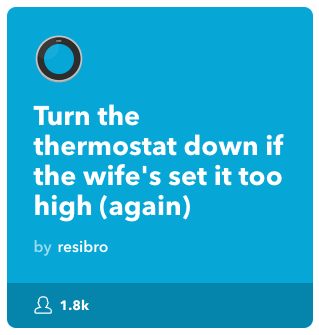 This is probably my favorite that someone created. I haven't tried it (nor do I dare!).
Conclusion
Most landlords can realize big benefits from installing a Nest thermostat. Whether you or your tenant pays the bills doesn't matter because it will make your rental more profitable either way.
However, it's important to understand the drawbacks of a Nest thermostat too. Especially when it comes to compatibility with a system that doesn't include a common wire or C-wire. It's not a deal breaker, but you need to look for signs of an issue and know how to correct it.
My Nest thermostat has already started saving me big money. I know I can get even more out of it by taking advantage of all of it's energy saving features.
Give it a try in your own home and then roll it out across your rentals. It will make your properties more competitive and profitable!
Leave a comment below and let me know your experiences with the Nest thermostat.
Want More Money Saving Tips?
Sign up today for the Accidental Rental Newsletter for access to more free money saving tips and tricks to being an awesome landlord!