Thanks for visiting AccidentalRental.com
I started this blog in 2016 as a way to capture what I have learned about owning rental properties, and real estate investment in general, so others could profit from my experiences. In 2008, I "accidentally" became a landlord  during the housing bubble when I couldn't sell my home but had to move. Turning my new "investment" into a profit despite losing money every month became my obsession.  I focused on cutting costs and finding ways to charge higher rents. Eventually that property turned profitable and I expanded into new rentals.
What is this blog about?
AccidentalRental.com is a resource for investors just starting out in the real estate business – especially new landlords. A place where you can learn from others facing the same challenges you will eventually face as a real estate investor. From how to manage a rental property, how to track your cash flow, etc. My goal is to enrich others who are just starting out on their real estate business journey.
How can I suggest topics or changes?
I'm always looking for ways to improve this blog so please leave your comments and suggestions.  Visit the Contact Us page or send an email to info@accidentalrental.com
Turn your "accidental" rental into a profitable future!
Recent Awards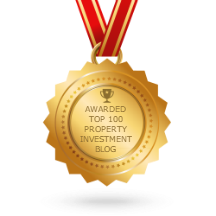 Feedspot.com recently awarded AccidentalRental.com a spot on their Top 100 Property Investment Blogs list!  Check it out here.