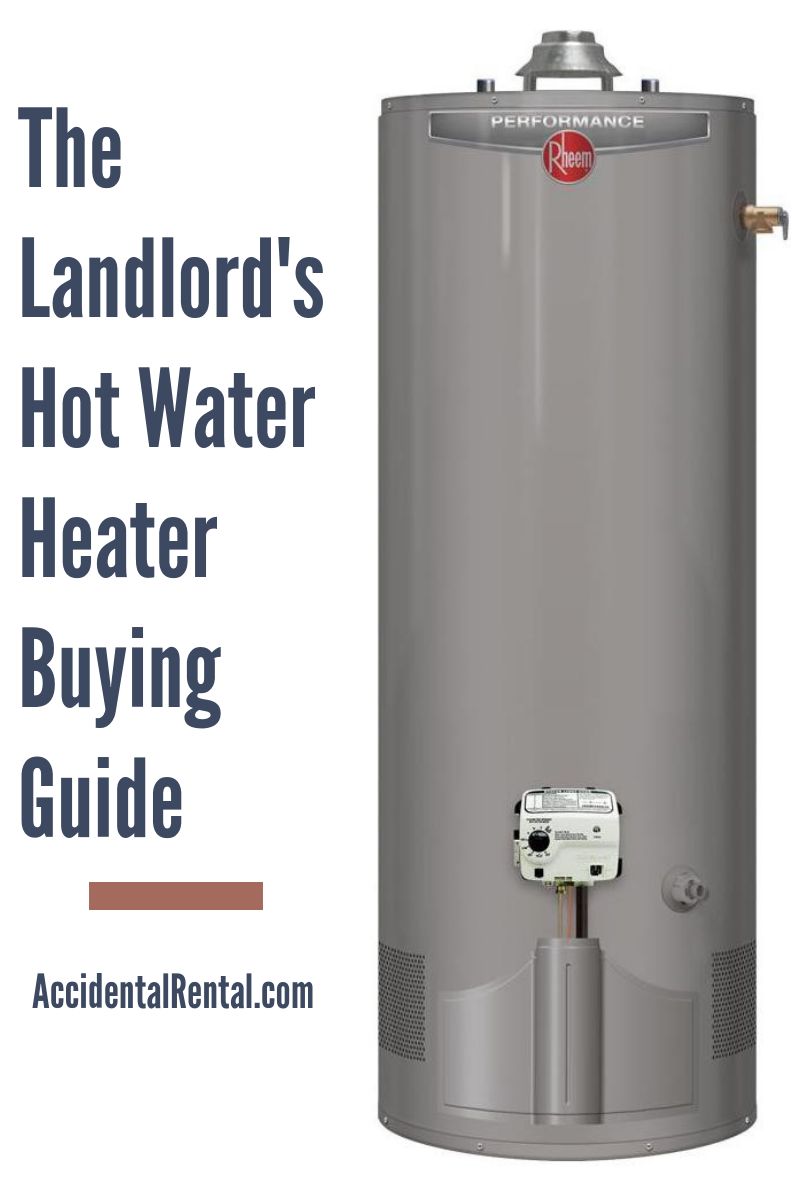 Finding the right hot water heater for your rental property isn't as easy it seems. There are many types and features to consider. It can be confusing.
The best hot water heater for your personal home may not be the best hot water heater for your rental property.  You need to consider the purchase from a landlord's perspective.
I was recently in the market for a hot water heater so I did some research that my I knew my readers could use. I looked at all the different options and created this landlord's guide to hot water heaters.
In this article I will:
Outline the most important criteria when choosing a hot water heater for your rental property
Break down the different types of hot water heaters and which ones are best suited for rentals
Review the key hot water heater features you want and which ones to avoid as a landlord
List several accessories landlords may want to consider when installing their next hot water heater
Let's get started!
What To Consider When Selecting A Hot Water Heater  
Fuel Source
The first criteria in selecting a hot water heater is determining which fuel source you will use. This will often depend on availability of fuel sources in your area as well as your rental's construction.
Where possible, I highly recommend using a natural gas line as your fuel source as it has a few advantages for rental properties over other fuel sources.
Here are a few of the Pros and Cons of each type of fuel source:
Availability
Compatibility
Pros
Cons
Natural Gas
Widely
Storage Tank, Tankless, Combo Heaters
• Less expensive fuel costs
• Runs even in blackout
• Faster heating

• Complex install
• Higher initial cost
Propane Gas
Widely
Storage Tank, Tankless, Combo Heaters
• Can be used anywhere
• More energy than Natural Gas
• Faster heating
• Higher cost than Natural Gas
• Complex install
• Explosive
• Periodic costs to refill
Electric
Everywhere
Storage Tank, Tankless, Heat Pump, Combo Heaters
• Easy install
• Efficient
• No hot water without electricity
• Longer heating time
• Higher energy costs
• Larger
Solar
Abundant in Southwest US
Solar Water Heaters
• Nearly free hot water
• Endless supply
• Complex install
• Very high initial cost
• Outside temp cannot fall below freezing
• Requires larger storage tanks
• Higher maintenance
Geothermal
Homes With Geothermal Heat Pumps
Storage, Tankless
• Save 50% on fuel costs
• Reliable
• Long-lasting
• Very high cost to install
• Complex installation
• Requires conventional fuel too
Natural Gas Hot Water Heaters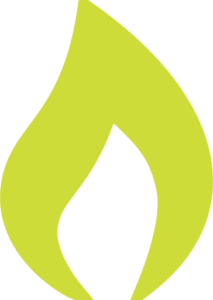 Natural Gas – Pros
Cheaper To Run
Natural Gas hot water heaters are usually far less expensive to run than electricity and even propane. You can compare the cost of gas vs. electric hot water heaters using this energy.gov calculator.
I ran the calculator and found that an electric hot water heater would cost about $945 to run each year whereas a natural gas hot water heater would only cost about $121.
This savings is significant. That's about $60/month in higher utility costs. Whether you or your tenant is paying doesn't really matter. Either way your rental is at a disadvantage if you have an electric hot water heater.
Continuous Service
You will not have to worry about the hot water going out even during a power outage if you have a storage tank natural gas water heater. This can make a big difference when your tenant still has access to hot water during an outage. It makes the place much more "habitable." However, tankless gas water heaters have electronic sensors that still require electricity to run.
PRO LANDLORD TIP – Include a lease provision that explicitly states you are not responsible for utility outages outside your control. This will let tenants know that you will not be putting them up in a hotel if the utilities are out due to weather or another circumstance outside your control.
Faster Recovery Time
Gas heats water much faster than electricity. This makes a difference in storage tank type hot water heaters (more on storage tanks below). You will have hot water faster if you should ever run out. A typical gas hot water heater will recover in about an hour. It will take several hours for an electric storage tank hot water heater to recover.
Natural Gas – Cons
More Complex Installation
Natural Gas hot water heaters, as with any combustible fuel source, requires proper ventilation. This requires finding the right location and paying more for the installation. According to Angie's List, a gas hot water heater can add between $500 and $1,000 to the installation costs.
Higher Initial Costs
Costs vary widely, but a quick check of a big box retailer shows that you can expect to pay between $500 and $2,000 for a 50-gallon storage tank gas hot water heater. An electric 50-gallon storage tank hot water heater at the same store will run between $300 and $1,300.
Electric Hot Water Heaters

Electric – Pros
Lower Cost
As mentioned above, electric versions of typical storage tank type water heaters will generally cost less than Natural Gas versions.
Easier Installation
Electric hot water heaters are also easier to install because they do not require ventilation. However, they do require 220v service so you may want to hire a professional if you are not comfortable working with the higher voltage.
Higher Energy Efficiency
Electric hot water heaters typically have higher Energy Factors. This represents the amount of water heated per unit of fuel. A higher EF factor means it uses less energy than a lower EF model.
For comparison, an Energy Star Electric Hot Water Heater has an EF of 2.0 or higher whereas an Energy Star Gas version only has .67 EF.
Electric – Cons
No Electricity, No Water
The biggest problem with electric hot water heaters is that your tenant will not have access to hot water in the event of a power outage. This may not seem like a big deal but hot water can make a big difference in a storm. Your tenant will appreciate the ability to shower even without power.
It makes your rental more livable and could help you avoid a dispute. It can save you from having to prorate your rent for days without hot water.
Longer Recovery
It takes electric hot water heaters several hours to recover once they run out of hot water. This can be avoided by ensuring you have sized your model appropriately for your rental's needs. See the section on Size below for more information.
Another side affect of this is that electric hot water heaters need to be larger therefore requiring more space.
Obviously this only applies to storage tank hot water heaters. A tankless model will never run out of hot water.
High Energy Costs
Electricity will generally costs more than other energy forms. This is obvious with a quick comparison of your electric bill and your natural gas bills. Electricity costs 2-3 times more than natural gas thereby eliminating any gains from efficiencies.
Propane-Fueled Hot Water Heaters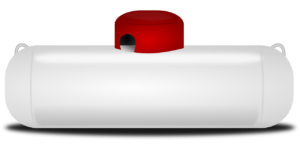 Propane – Pros
Off The Grid
You may have a property that is a little off the beaten path or away from the main property without access to electricity or natural gas. Propane gas may be your only choice to fuel your space and hot water heaters.
Efficient
Propane is a powerful energy source. It is 2-3 times more efficient than Natural Gas. This means you don't need as much to heat your water.
Fast Heating
Propane, like Natural Gas, heats water much faster than electricity.
Propane – Cons
Explosive
Because Propane is heavier than air, it doesn't dissipate as easily as other gases. It can be highly combustible. This makes it a less than desirable choice for rentals. You don't want your tenants inadvertently causing a leak during a tank refill and end up with catastrophic consequences.
Costs More Than Natural Gas
Propane costs more than Natural Gas. It will cost you nearly twice as much to fuel your hot water heater with propane than it will with Natural Gas.
Complex Install
Propane fuel requires a more complicated set up. In addition to the necessary ventilation, as with natural gas, you will also need to set up the propane storage tank. It also requires a pressure regulator between the propane tank and your hot water heater.
Bigger Cash Outlay
Propane fuel requires large storage tanks – up to 500 gallons or more for a full sized house. Filling this tank will cost you big. It will cost you between $500 and $1,000 to fill a tank annually. This is not ideal if your tenant is required to pay for this. They may find it hard to come up with the cash for the propane and the rent.
Solar Hot Water Heaters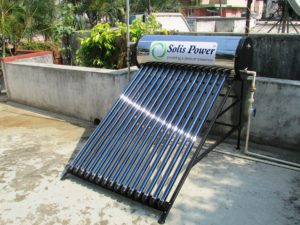 Solar – Pros
If you live in an area where you take advantage of this abundant, free resource then Solar can be a great solution for hot water heating. Its supply is endless and it will cut water-heating costs by up to 80% by some estimates.
Solar – Cons
Solar hot water heating isn't cheap. Estimates vary but expect to pay at least $5,000 to $15,000 to install a solar water heater. You will also need a larger storage tank. A typical family of four will need an 80-gallon tank.
Solar hot water heaters can't be used if the outside temperature dips below freezing for too long. That eliminates much of the continental US.
Finally, solar hot water heaters are not complex systems but do require annual maintenance to avoid scaling and corrosion in the lines. This maintenance is probably something you want to handle yourself instead of leaving it to your tenant.
Geothermal Hot Water Heaters
Geothermal / Heat Pump – Pros
If your home is already fitted with a Geothermal heating system, then it doesn't take too much to install a special hot water heater that can tap into that heat source. You can do this by adding a desuperheater to your geothermal system. This takes advantage of the waste heat generated by the geothermal system.
A geothermal hot water heater can save you 50 – 60% on hot water heating costs. They tend to be very reliable, have fewer moving parts and will last longer than conventional hot water heaters.
Geothermal / Heat Pump – Cons
You will still need a conventional heat source to make it work. Geothermal hot water heaters only produce hot water heat when the geo thermal system is on. It will have to use another fuel to make up the difference.
The other major drawback to a geothermal heat system is that it requires you to trench much of the yard. This adds significant cost to the installation.
Best Fuel Source For Landlords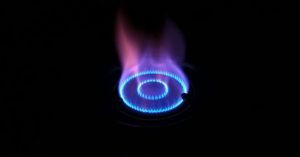 Natural Gas hot water heaters are generally the best choice for most landlords. Most homes are fitted with gas lines to accommodate a gas hot water heater. They are cheaper to operate for you or your tenant.
Also, finding a plumber to service one will never be a problem unlike other complex systems. You should avoid other fuel sources unless absolutely necessary due to limited availability of natural gas.
Storage Tank vs. Tankless Hot Water Heaters
After you have decided which fuel source is best for your rental hot water heater, it's time to choose between a Storage Tank or a Tankless model.
Pros
Cons
Storage Tank
·  Less expensive

·  Easier Install

·  Easier Maintenance

·  Higher Operating Costs

·  Bigger

·  Can run out of hot water

·  Tanks can leak

·  Shorter life

Tankless
·  Very compact

·  Energy efficient

·  Never run out of hot water

·  Longer life

·  No tank leaks

·  More expensive

·  Complex install

·  Not ideal for larger households

·  Slight delay in hot water

Combination Space & Hot Water Heater
·  Eliminates need for two appliances

·  Cheaper than installing two appliances

·  Highly efficient

·  Less maintenance than two appliances

·  Same as Tankless

·  Also no hot water or heat if it breaks down
Storage Tank Hot Water Heaters
Storage Tank hot water heaters are the traditional type. These are the ones you are most likely thinking of when you think of hot water heaters. They typically hold between 40 and 80 gallons of hot water so it's readily available when needed.
Pros
Storage Tank hot water heaters cost about a third of the price of most tankless models. Installation is much simpler than a tankless model which may require electrical or plumbing upgrades. They are also more common and therefore, easier to find parts and service should it break down. Storage Tank hot water heaters can also supply nearly instant hot water (depending on distance to faucet).
Cons
Unfortunately, Storage Tank hot water heaters are not that efficient because they are continuously heating large amount of water whether you need it or not. They also require a lot of space and venting for the unit.
While they are great for getting large amounts of hot water from multiple locations, they can run out of water leaving someone in the cold. Finally, they typically only last 10-15 years. After that, tank corrosion will eventually cause a leak, potentially spilling gallons of hot water.
Tankless Hot Water Heaters
Also called "On-Demand" water heaters, these wall-mounted hot water heater units are ideal for smaller spaces and smaller houses.
Pros
The best reason for landlords to consider a Tankless hot water heater is because it is ideal when space is at a premium as in small studios and condos. These units are perfect for small urban spaces but they offer other advantages as well.
Tankless hot water heaters are also very energy efficient since they only produce hot water when needed. They will save between 24-34% in heating costs in houses that use 41 gallons or less per day. They can be installed for the whole house or just in certain areas. The more units you install, the more you can save.
They will never run out of hot water which can be a real problem if you have a tenant that uses more than your storage tank hot water heater can handle. There is virtually no risk of a tank leaking after it's useful life.
Finally, Tankless hot water heaters tend to last longer than their storage tank counterparts. Most will last 20 years or more versus 10 to 15 years for most storage tank hot water heaters.
Cons
But Tankless hot water heaters are not without their trade-offs.
While they will save you money over the long run, they will cost you up to 3 times as much as a storage tank water heater. In fact, you may never fully recoup the extra costs for some of the higher-end models.
Tankless hot water heaters are more complex requiring a professional install. In the case of electric Tankless models, you may need to upgrade your system to accommodate the extra power required. This can easily set you back thousands as well. Special ventilation may be required as well.
They are also limited by how much hot water they can produce at once. You need to be sure what your peak demand hot water needs are before purchasing a Tankless hot water heater. The more faucets you have open, the lower the water pressure. They are not ideal for homes with more than one bathroom unless you install multiple units to boost supply throughout the house.
Are Tankless Water Heaters Good For Landlords?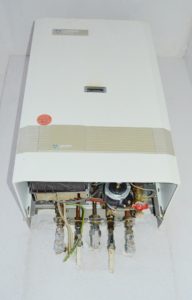 I've used both a tankless hot water heater and a combination space/hot water heater (see below) in rentals when necessary to make room for an in-unit laundry, but they are not ideal for rentals.
Tenants expect to have very hot water at high pressure in their showers. Tankless hot water heaters really can't accommodate that, especially in the dead of winter when the ground water is much cooler and requires more energy to heat up quickly.
They will also shut off if the demand is too high or the ventilation isn't adequate. Usually when someone is in the shower. Not a good call to get from a tenant! The way to avoid this is to make slight adjustments to the settings during the winter, which you never want to let your tenants do.
My recommendation is to use these only if you need to. They are great for small condos or guest suites where space is limited, but they come with special needs. You will need to find a specialist who knows how to install and maintain these units. Not all plumbers are versed in these types of water heaters. You should also avoid them if you live in ultra cold winter locations as the water will not flow fast enough and you will get tenant complaints.
Combo Units

Combination or "Combi" units are space and hot water heaters in one. They are ideal for super-tight spaces like small condos. I recently had one installed as a way to free up space in a tiny utility closet.
Pros
Combination space and hot water heaters are a great way to save space in an ultra tight area. Like a Tankless hot water heater, they hang on walls requiring little space. They combine a space heating boiler and a hot water heater into a single appliance. This also makes them very energy efficient as well as space efficient. That's because there is no need to have two appliances on at once.
There are other savings as well. You only need one technician to service it. And you only need to have one installation.
Cons
They suffer the same inconveniences as Tankless water heaters when it comes to water pressure and slight delays in hot water. In addition to this, they also have another drawback. If they break down, your tenant will be without both heat and hot water. Not good. Luckily, I've had mine installed for over a year now without any issues so far.
Other Features Landlords Should Consider
Now that you know which fuel you will use and decided between a Storage Tank or Tankless model, it's time to look at some other features and see what they mean for landlords.
I've focused this section on standard storage tank hot water heaters as they are the most common.
Capacity
If you choose to go with a traditional Storage Tank hot water heater, then you need to make sure you size it right for your rental.
How Many Occupants?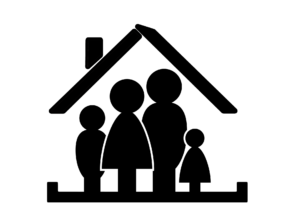 The first step is to determine how many tenants are likely to be living in the rental. As a landlord, you should assume your rental can accommodate the maximum allowable residents under federal and local guidelines.
While there is no federal law, the Department of Housing and Urban Development issued occupancy restriction guidance stating that a limit of 2 people per bedroom is a reasonable restriction. This means that a typical 3 bedroom rental could be expected to accommodate 6 people. This would imply a larger hot water heater capacity is required in rentals than is generally recommended for most homeowners.
Note that this is a guideline and there can be mitigating circumstances or other local ordinances restricting occupancy of your rental. Check with local authorities to make certain.
Determining Peak Water Usage
Next, you need to determine how much water your tenants will need during peak usage. The best way to do this is to estimate the peak demand (also called First Hour Rating or FHR) based on that number of allowable residents. In the case of the 3-bedroom unit, you could reasonably expect 3-6 showers, a shave and several hand washes during that first hour.
Energy.gov provides a handy water usage calculation chart to help you determine how many gallons that uses. If you find this too complicated, then you can use a rough guideline of about 10 Gallons per occupant during peak consumption.
Choosing The Right Storage Tank Size
Finally, choose a hot water heater with a storage tank capacity that accommodates your desired peak usage. In our example, peak usage could be between 36 and 72 gallons. This would require a much larger storage tank capacity than suggested by most buying guides geared towards single family homes.
Note that storage tanks for electric powered hot water heaters have to be bigger because of the slower FHR.
Most 3-BR rentals don't need a 98 gallon storage tank unless you anticipate renting to 6 people. But you should understand that it's a trade off between tenant convenience and energy efficiency. The bigger the storage tank the less efficient the hot water heater but the fewer inconveniences your tenants will experience if they use a lot of hot water.
My suggestion is to err on the side of more capacity and look for other ways to be energy efficient. See below for accessories and maintenance tips.
Energy Factor
Water Heaters are also energy hogs. Hot water heaters account for nearly 20% of your home's energy use according to Energy.gov. You want to make sure you choose the right hot water heater regardless of who's paying the utility bills.
The hot water heater's Energy Factor will determine how much it will cost to run. It's simply a measure of how much hot water can be produced per unit of fuel.
EF = Hot Water Produced / Unit of Fuel
A higher EF means lower fuel consumption, which in turn means less cost to run.
Let's look at a few examples so you can see how to compare hot water heater models based on their respective EF's.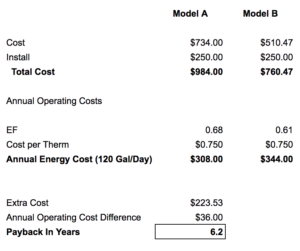 In the example above, the only difference in the two models compared is their EF and cost. Model A has an EF of .68 and an annual operating cost of $308. Model B has an EF of .61 and an annual operating cost of $344.
You can see in this example that it will take over 6 years before the extra cost of the high efficiency model will payback. This payback is far too long to make a difference for most landlords.
However, see what happens below when the water usage is increased: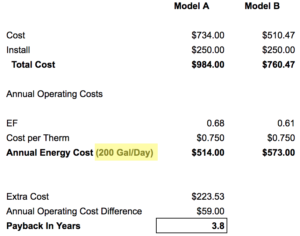 Clearly the more water you expect your tenants to use, the quicker the payback.
What if your local Natural Gas costs are on the high end?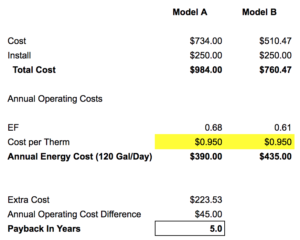 Again, the payback is quicker.
Play with this energy calculator from Energy.gov to see if it makes sense to spend a little more on a high EF model to make your rental more competitive.
Energy Tax Credits
Hot water heater gas credits expired in 2017 but many expect them to come back, possibly retroactively. You might want to consider a model with an EF rating at least .82 for gas or 2.0 for electric. If your model qualified, you would have received a $300 energy tax credit!
Brass Versus Plastic Fittings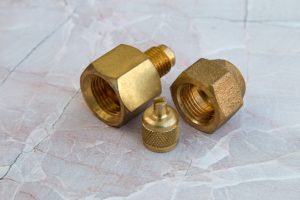 Landlords and property managers should be performing annual maintenance on their rental hot water heaters. This requires draining the tank to remove harmful sediment by attaching a garden hose to the fitting.
Brass fittings are superior because they will not wear out and cause a leak. Always opt for a model with brass fittings instead of cheap plastic ones. Brass or copper fittings will be easier to connect to copper pipes in your home as well.
Durability and Warranty
Value is a function of what you pay and how long it will last. (You can learn more about this in my article on maximizing rental renovation ROI). Most storage tank type hot water heaters come with a 6 or 10-Year warranty. While most tankless hot water heaters come with a 15 to 20 year warranty.
Not all warranties are the same. Be sure to look at the details. What is excluded from the warranty? Does it include parts and labor? Is it transferable to the next owner?
Here's a chart with examples of warranties on selected models from the 3 leading storage tank hot water heater manufacturers.
| | | | |
| --- | --- | --- | --- |
| | AO SMITH | BRADFORD WHITE | RHEEM |
| | | | |
| Tank | 6 – 10 Years | 1 – 10 Years | 6 to As long as you own the home |
| Parts | 6 – 10 Years | 1 – 10 Years | 1 – 10 Years |
| Labor | Not Covered | Not Covered | Up to 1 Year |
| Incidental Costs | Not Covered | Not Covered | Not Covered |
| Transferable | No | Yes | No |
| Limited Rental Coverage | Yes | No | Yes |
| Coverage Start | Install Date | Install or Manufacture Date + 3 Months | Install or Manufacture Date + 1 Month |
You can see from the above the warranties vary a lot, even from the same company so be sure to check the specifics of the models you are interested in.
AO Smith is particularly worrisome as a landlord.   Their warranty is very limited:
Only covers the original owner
Covers Tanks and Parts only
Doesn't cover Labor or other incidental costs such as shipping
Severely limits the warranty if not used in a SFH
I asked AO Smith exactly what they meant by that last provision. They confirmed that the warranty is reduced if it is installed in a multifamily rental property and is used to supply more than one unit.
Bradford White does extend their warranty to subsequent homeowners. This is something to consider if you are Fix & Flip investor or just plan to sell your rental soon.
Similar to AO Smith, Rheem severely restricts their warranty if it is used in a multifamily home. From 12 down to 1 year on some models!
Are Longer Warranties Worth It?
Some experts suggest the only real difference between 6 versus a 10-year warranty is likely to be the size or number of the sacrificial anodes. They suggest you can save money if you buy a cheaper 6-Year warranty model and install a larger anode or replace it after a few years.
PRO LANDLORD TIP – Most warranties start on the date you purchase the product but if you lose the receipt it can revert to the date of manufacture, which can be a year or more before you bought it. Save your receipt and register your purchase online!
Should Landlord's Opt For The Longest Warranty? – Not necessarily. It depends on how much more the extra warranty costs. You should generally choose the Brand and Model with best warranty coverage for your needs. Keep up with maintenance, as many warranties are void if the failure is caused by lack of maintenance. Always avoid Brands and Models with warranties that are limited when used in rentals.
Sacrificial Anode Rod
You may want to look for models with accessible sacrificial anodes. The anode rod keeps the corrosive materials from destroying the hot water heater tank. Replacing them can significantly extend the life of the hot water heater.
PRO LANDLORD TIP – Look for models with an exposed hex head magnesium anode on the top of the unit. This allows you to access, inspect and potentially replace the anode rod.
Dimensions
This is straightforward with no special implications for landlords. Be sure to measure your available space before buying a new storage tank type hot water heater. New models tend to be larger than older ones and may not fit where the current one is.
Low Boys
30" to 49" tall
20" to 26" wide
Hold between 30 and 50 gallons
Ideal for closets or low ceiling basement where space is limited for plumbing and venting.
Tall Boys
46" to 60" tall
18" to 21" wide
Hold between 30 and 100 gallons
Either of these are good choice from the landlord's perspective depending on your space availability.
Glass-Lined Tanks vs. Stainless Steel
Most storage tank water heaters are glass-lined. Indirect Hot Water heaters (Combination Boiler systems) are available in Stainless Steel. Stainless costs more but naturally resists corrosion.
There is no need for sacrificial anode replacement with a stainless storage tank.
However, they may not hold up if your water has high chloride content. Check with your local water department to see if that's the case before you buy one.
There are a few other benefits to stainless storage tanks. Water can get hotter – 180° versus 160°. They are also lighter and easier to install.
PRO LANDLORD TIP – Run the numbers to see if the extra life and lower maintenance is worth the extra investment for a stainless steel tank.
Do You Need Overheat Protection?
Most hot water heaters come equipped with overheat protection, which will shut off the system if the water gets too hot.
PRO LANDLORD TIP – Make sure your model has overheat protection.
Does Self Cleaning Work?
Some models employ a system that keeps the sediments from settling on the bottom of the tank. Theoretically, they require less maintenance and can extend the life of the tank. However, it's questionable if they really work as claimed or not.
PRO LANDLORD TIP – Don't pay extra for Self Cleaning. Do the maintenance.
What Is Ultra Low Nox?
Ultra Low NOx (or ULN) models produce less Nitrogen Oxides pollutant.  They are required if your property is located in Utah or parts of California.
PRO LANDLORD TIP – make sure you buy a ULN model if your rental is required to have it.
Do I Need Power Venting?
These hot water heaters are the same as a Direct-Venting combustion type hot water heater but with a powered vent fan. These can be an option to reduce installation costs where natural venting is not ideal such as a closet. They will cost more than naturally venting hot water heater but it is still a much cheaper option than installing the proper ventilation.
The power venting models require an electrical outlet nearby. They also tend to produce a noticeable sound when the fan is running.
PRO LANDLORD TIP – Consult a local professional if you think you might need a power vented model. Be sure to let your prospective tenants know to expect a sound coming from the water heater. This way you will avoid a call later saying they want to move out because they can't sleep!
Pilot Lights
Pilot lights can be either standing (always on) or electronic ignition. Standing pilot lights are less efficient but will definitely work in a power outage. Electronic ignitions are more efficient and easier to start back up but may not work without electricity.
PRO LANDLORD TIP – Look for an electronic ignition pilot light that doesn't require a power source. This will be easier for your tenant to start back up without you making a trip and will continue to work in the event of a power outage.
If you are shopping for a tankless hot water heater, look for models with internally generated sparks. These will continue to work in the event of a blackout.
Are Smart Hot Water Heaters Worth It?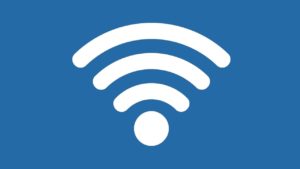 Smart hot water heaters are the latest in the Smart Home trend. They offer a few features that you may find helpful as a homeowner, but not as a landlord.
Remote Control – You can monitor usage, water levels and control the water temperature from your phone.
Efficiency – Set the hot water for "vacation" mode to avoid heating water that won't be used. Some models "learn" your hot water needs and plan accordingly.
Safety – Smart hot water heaters can detect leaks and alert you via text. They can also shut off the system if it detects an unsafe temperature indicating a possible thermostat failure.
Aquanta Water Heater Controller
calls itself the Nest of Hot Water Heaters. It's a smart system that you can retro fit to most electric and gas storage tank hot water heaters. It will cost about $189.
Rheem Home Comfort WiFi
converts some ordinary Rheem hot water heaters into a smart system for an extra $49 – $89.
PRO LANDLORD TIP – These smart systems are cool and could help save you or your tenant energy costs but they aren't practical for most landlords. They require access to the Wi-Fi so your tenant would have to let you access the device. You may want to consider one if you live in a duplex and control the Wi-Fi.
My suggestion is to wait until they eventually are incorporated into all models. There's no need to rush to be the first landlord on your block to have one.
Hot Water Heater Accessories
There are a few hot water heater accessories that you should definitely consider as a landlord.
Water Heater Drain Pan
Electric or Gas Hot Water Heater Drain Pan catches leaks
Water Sensor and Alarm
I have a couple of these around the basements
Be sure to change the batteries every 6 months or so
Water Heater Insulation Blankets
Pays for itself in about a year
Saves about 7-16% on annual hot water heating bills, especially if tank is in a cold area
Be sure to get one designed roughly for your hot water heater dimensions
Water Heater Stand
Required under some building codes
Thermal Expansion Tank
Prevents the relief valve from tripping
Magnesium Water Heater Anode Rod
Check you model number to make sure it fits
Tankless Water Heater Flushing Kit
Helps maintain the performance of Tankless hot water heaters
Electronic Water Heater Timer
Minimize wasted heat from an electric hot water heater
Conclusion
Choosing the right hot water heater for your rental is different than choosing one for your own home. You need to consider the unique requirements of rentals when deciding among many different features.
Deciding the appropriate fuel source is usually dependent on your local area and your rental. Choose Natural Gas if it's available because that will save you the most money and be the easiest to service.
Next, choose whether you want a storage tank or a tankless model. Most landlords will find the storage tank models best suit their needs. However, you need to consider the maximum capacity of your rental because this will have a direct impact on the size of storage tank you will need.
Then you need to balance the operational savings with the extra upfront costs when considering things like energy factors and warranties. You can pay for more cost efficient and longer lasting models but run the numbers to see if you can expect a positive ROI. Avoid installing a model in a duplex that explicitly limits your warranty.
Finally, there are a few other features, which a landlord should seek either because they will create a better rental or are simply required for your rental. I've also listed a few hot water heater accessories like insulating blankets, water leak detectors and replacement anodes you will want to consider in order to make the most of your investment and protect your property.
Want More Landlord Tips!
I hope you found this landlord's guide to hot water heaters helpful and it saves you money. Sign up today for the Accidental Rental monthly newsletter for access to more free money saving tips and tricks to being an awesome landlord!